This is an archived article and the information in the article may be outdated. Please look at the time stamp on the story to see when it was last updated.
MADISON COUNTY, Ala. (WHNT) --  For any investigator, a missing person case that drags on for days that turn into weeks, and in some instances years, can be gut-wrenching.
The question everyone wants answered: where. Answering this question often haunts the family members of the missing and the investigators assigned to find their loved one.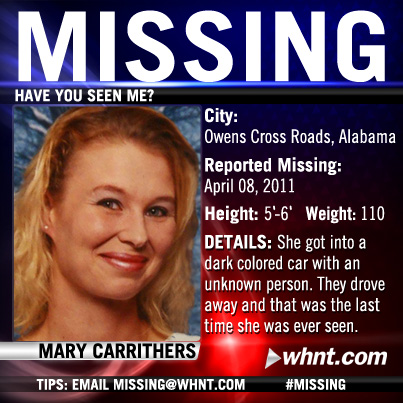 Madison County resident Mary K. Carrithers disappeared on April 8, 2011 from near her husband's home in Owens Cross Roads. Investigators say Carrithers was seen getting into a dark-colored car with an unknown driver. She has not been seen since.
"Mary's case is troubling.  We want to find out where she is located," Madison County investigator Sgt. Brian Chaffin said.
Carrithers' sister reported her missing.  Investigators say Carrithers was born in 1978. At the last time she was seen by family she weighed about 110 lbs., was 5'10'' and had blond hair and blue eyes.
Last year, investigators were tipped off that Carrithers may have been buried under a pool at a home in Owen Cross Roads. Investigators brought in heavy machinery to search the property for a body but they found nothing.
"Someone out there knows something about what happened to Mary," said Sgt. Chaffin.  "We need them to come forward and give this family the answers they need."
If you have any information about this case, please call the Madison County Sheriff's Office at (256) 532-3715.