This is an archived article and the information in the article may be outdated. Please look at the time stamp on the story to see when it was last updated.
FYFFE, Ala. - Last weekend, the Huntsville Havoc held their 7th annual Wiener Dog race. For four minutes, it's pure unadulterated dachshund delight on ice.
The story behind the race's champion, is in a league of its own.
All the stereotypes you've ever heard about dachshunds - fat, stubby legs, lazy - don't apply to Murray.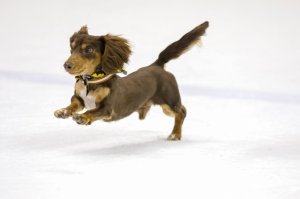 "I've always thought he was abnormally fast for a wiener dog," said Peyton Wilbanks, Murray's owner.
The one year old miniature dachshund has a need for speed that just won't quit.
"This is all he does man, eat, sleep, and play," said Wilbanks.  "I feel like I'm gone at work and school, he's still doing this"
Peyton didn't exactly expect this, when he picked out the pup.
"I thought he'd be a fat little weenie dog that would chill and hang out with us," he said.
But now, Peyton wouldn't have it any other way.
"I'd like to have 10 dogs just like him," said Wilbanks.
That's why Peyton became alarmed last month when, without warning, the pitter patter of feet went silent.
"Well he started losing his personality, wouldn't chase his toys, wouldn't have as much fun, just laying down all the time," he recalled.
The next morning, Wilbanks took Murray to the vet.  "He came back positive with Parvo," the owner said.
Left untreated, Parvo, a contagious disease found in dogs and cats, has a 91%  fatality rate. Murray was kept at the vet's office around the clock for four days.
Wilbanks said he was terrified he might lose Murray. "That's my best friend. I couldn't live without that dude."
Murray responded well to treatments, and was allowed to go home.
"He just wasn't the same for about a week and then he started feeling better after about a week back home," said Wilbanks.
Just a matter of days after Murray got back to his normal, spastic self; Peyton's mother got an idea.
"We've always watched the Havoc growing up and she said the Havoc had a wiener dog race and she thought it would be funny if Murray could enter it," said Wilbanks.
The Wiener Winner
They had only a week to train this dogged dachshund. Speed was never Peyton's concern.
"I thought he was fast, I thought the other dogs might distract him," said Wilbanks.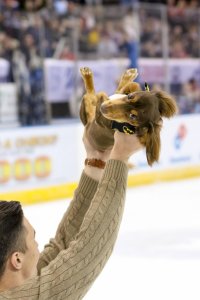 Peyton discovered, he could use Murray's playfulness to his advantage.
"I can tell him to go get his toy and he'll get real fired up and bark if I hold him and he don't have it. So I got my little sister's boyfriend to hold it and squeak it. He got pretty fired up. I guess he didn't want the other dogs to get his toy," he said.
The first heat, Murray won by a nose.
"He almost got beat in at the end. He slowed down," recalled Wilbanks.
After seeing the field of competitors, Peyton got confident about Murray's chance.
"If I got to the final round I thought he would win because there wasn't as many dogs to distract him and he would go get it," he said.
In the final round, Murray, lined up on the far left, raced to glory and claimed his prize.
"They told me they was going to play Simba music from the Lion King, so I automatically just picked him up like that," said Wilbanks.
The grand prize - 200 dollars worth of pet supplies and toys.
It was a fitting gift, because after Parvo, all of Murray's toys had to be destroyed. Now, he's got a wide collection to choose from.
"He's the Lebron James of wiener dogs," said Wilbanks.
And fear not, if you missed this year's race, you can catch him next year.  "Absolutely, reigning champion. I have to," said Wilbanks.