This is an archived article and the information in the article may be outdated. Please look at the time stamp on the story to see when it was last updated.
BOAZ, Ala. (WHNT) — From a potentially-deadly disease he can't remember, to an experience he'll never forget, Miles Benton's been through a lot in his first decade of life.
Year ten is going better than year two, when doctors diagnosed him with cancer in his leg.
Last month Miles went to a college football stadium for the first time and saw his favorite team, the Alabama Crimson Tide, defeat their bitter rivals Auburn, and got to go in the locker room and spend time with the players after the game.
"It was pretty awesome, first Iron Bowl, so yeah, it was cool," the 10-year-old said.
He was the guest of Austin Shepherd, whom he met for the first time after the game.
You likely haven't heard of Austin Shepherd, unless you're one of the dozens of children he's visited at Children's Hospital in Birmingham over the past year, or a die-hard Tide fan.
Shepherd is redshirt sophomore who plays right tackle on the Alabama football team.
He's never started, but played in seven games last year as the team won its second national championship in three years, and nine games this season as they try for another.
As an offensive lineman, his name doesn't show up in box scores, but his name is on a foundation dedicated to improving the lives and spirits of sick children and their families.
He and his girlfriend, Jenna King, started the Austin Shepherd Foundation in October.
"From Jenna I learned that's life short, because her brother [Jon King of Arab] died of cancer," Shepherd said.
The couple make monthly visits to Children's Hospital, and other players often join in.
"I just know that these kids appreciate the football team and everything we do.  They love to see us and be around us, so we try to go to the hospitals to see them," Shepherd said.
Now he is trying to make it possible for children to come see the team play.
King is from Arab and purchased some ribbons for awareness and fundraising efforts at Buddy's Country Flowers, where she met Miles Benton's grandmother, Melba.
Shepherd said Melba talked about her grandson's cancer diagnosis and his remission.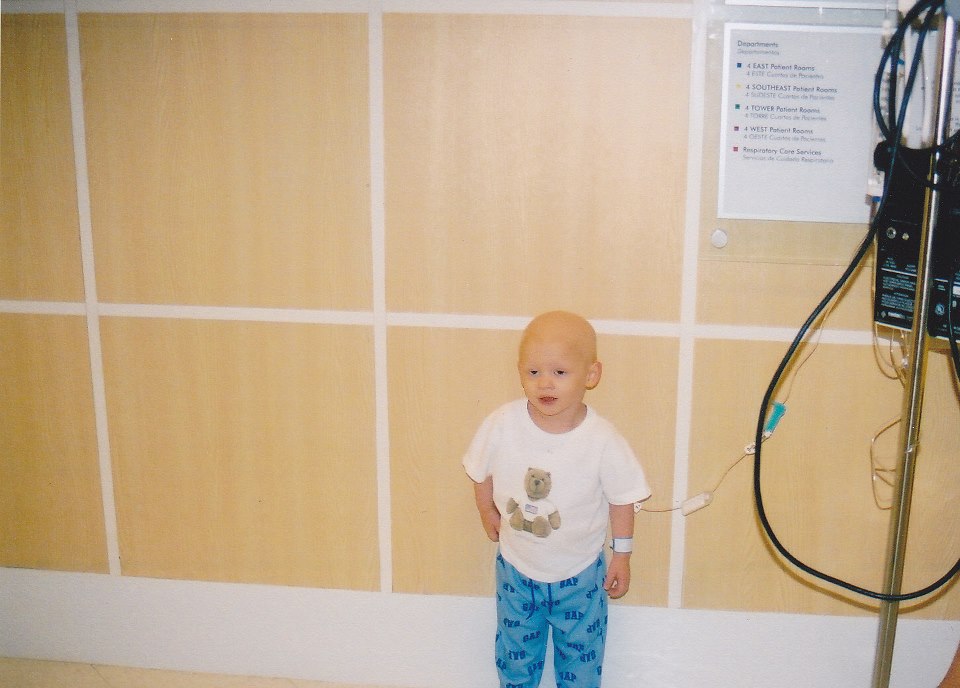 "We just thought it would be special to get tickets for him and his dad to come to the Iron Bowl, and the cool thing about it was, two people in Huntsville–I never found out who it was–donated their tickets for his mom and his brother to go too," Shepherd said.
He called Miles on Thanksgiving to tell the 10-year-old what would happen that Saturday.
"I didn't know who it was but then he said it was an Alabama football player, and I'm like, cool, that's awesome," Miles said.  "It was just awesome for a football player to call me and say would you like to go to an Iron Bowl game?"
King welcomed the family to the stadium and took them behind the scenes afterward.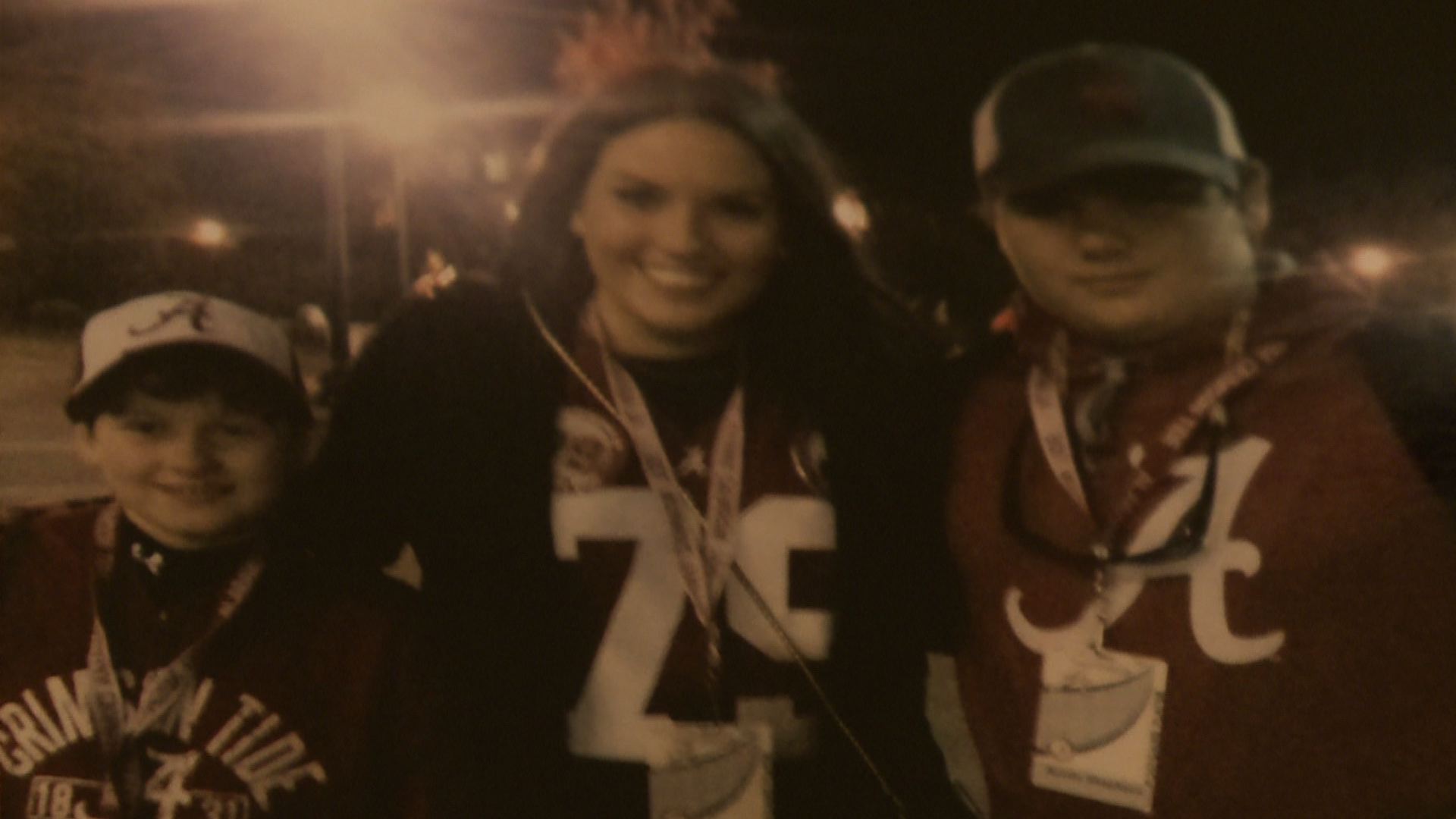 "I got to meet all the players, got them to sign my football, I got to meet Austin," Miles said.
Running backs Eddie Lacy and T.J. Yeldon came by to say hello, as did center Barrett Jones, long snapper Carson Tinker, placekicker Jeremy Shelly, left tackle Cyrus Kouandjio, and many more, but Miles really wanted to meet the quarterback.
"He was waiting on A.J. [McCarron] to come out and he never did, so Austin got them to go back into the locker room, and that's where Austin had stopped coach [Nick] Saban and he met him in there," Miles' father Steve Benton said.
"Miles handed him the football and he was kind of star struck, and that's when coach Saban said, 'well, can I have the pen son?," Benton said.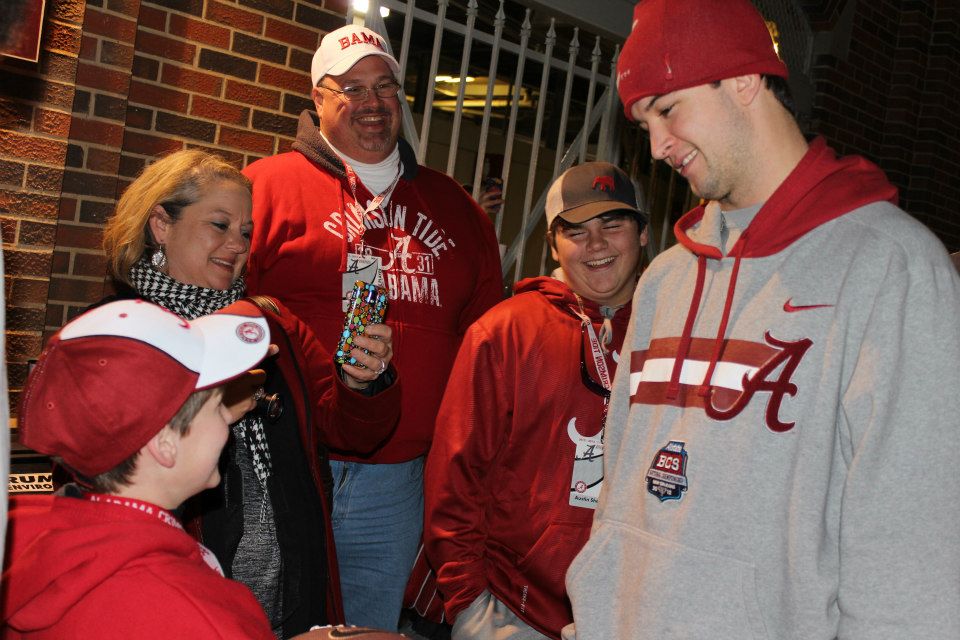 The family met McCarron, and as the tour of the team locker room ended, Shepherd showed Miles a sign above the door the players walk through as they head out to the field.
"It says WIN, and Austin picked him up and held him up so he could touch the metal sign they have up there, and he thought that was pretty cool," Benton said.
He said he is amazed a college student would think about his son and give back like that to a stranger, and it was a special experience shared with the whole family.
"Six years almost he's been in remission, and that somebody is still thinking and caring about how he is, it's amazing what he did for us and especially for Miles, I can't put it in words," Benton said.
Shepherd said he hopes Miles will be the first of many kids he can invite to games.
"I'm going to try to get kids to as many games as possible," he said.
"We have an allotment of tickets for kids in need and kids that are sick and things like that.
"I'm going to get in touch with the football relations staff and see if I can work out a thing where I can get a pair of tickets to every game and hopefully get them on the field and let them meet some people," Shepherd said.
The Austin Shepherd Foundation is currently trying to raise $10,000 for Children's Hospital by Christmas, and if you would like to learn more or donate, visit their website here.