This is an archived article and the information in the article may be outdated. Please look at the time stamp on the story to see when it was last updated.
HUNTSVILLE, Ala. – For over 39 years, the Cotton Row Run has been Huntsville's premier fitness event.
The Cotton Row has become a Huntsville tradition to celebrate those who made the ultimate sacrifice for the country, and it's also a premier running event in the southeast.
Cotton Row History
King Cotton was the monarch of this beautiful land with country lanes and grand hotels. Madison County stood tall as the largest producer of cotton. People flocked to the west side of the courthouse to sell their white gold to the cotton merchants. This side of the courthouse became known as 'Cotton Row'
The Cotton Row was a vibrant area that offered relaxation to the people of Madison County. Although the era of Cotton Row is over, the real Cotton Row can never disappear.
How you can Participate 
For those who are not running, you can line the race track in red, white and blue to encourage the runners to finish the race. There are a bunch of runners who have never run a road race before and your support can help them cross the finish line.
Schedule of Events
Sunday, May 27, 2018
1:00 p.m. – 6:00 p.m. – Expo, Late Registration, and Packet Pick-up at the Von Braun Center – East Hall
Monday, May 28, 2018, Race Day! NO RACE DAY REGISTRATION
6:00 a.m. -6:45 a.m. – Late Packet Pickup for 10K Race (in the VBC East Hall)
7:00 a.m. – 10K Race Start
6:00 a.m. – 8:30 a.m. – Late Packet Pickup for 5K Race or 1-Mile (at the VBC East Hall)
8:30 a.m. – Awards for 10K Race in North VBC Parking Lot
9:00 a.m. – 5K Race Start
10:00 a.m. – 1 Mile Fun Run Start
10:15 a.m. – Awards for 5K Race in North VBC Parking Lot
Course Map 
The Cotton Row Run 10K course runs through the beautiful neighborhoods of downtown Huntsville including Blossomwood and 5 Points and will provide a nice challenge with the infamous climb up Mountainwood hill. The 5K course stays closer to downtown and is flat and fast. Both courses showcase Huntsville's beautiful, historic Twickenham and Old Town Districts.
Both the 5K and 10K courses are certified by the USATF and are record eligible.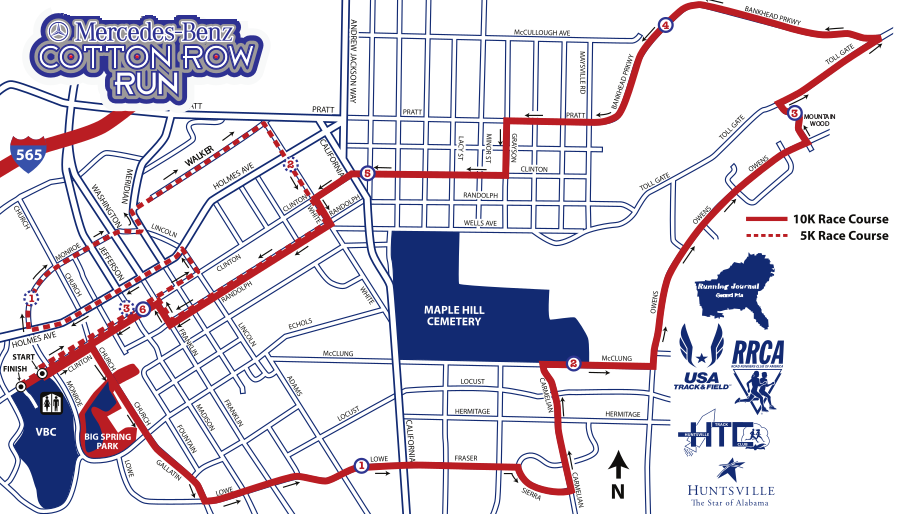 Volunteer Opportunites 
Volunteers are still needed for this year's race. You can find volunteer opportunities by clicking here.