This is an archived article and the information in the article may be outdated. Please look at the time stamp on the story to see when it was last updated.
HUNTSVILLE, Ala. – Two people are facing aggravated child abuse charges in a case that involves the death of a 3-year-old boy.
Emergency crews responded to the home at 125 Maple Ridge Blvd. before noon on Tuesday where they say the boy was unresponsive.
Madison County Coroner Tyler Berryhill confirmed the death of the 3-year-old boy. He says the boy's body has been sent to the Department of Forensic Sciences in Huntsville where an autopsy will be performed this week. Berryhill says someone found the child unresponsive inside the home. HEMSI Paramedics rushed the child to Huntsville Hospital Women's and Children's where he was pronounced dead shortly after 12:30.
HEMSI spokesperson Don Webster said emergency crews took a second child to the hospital from the home.
Wednesday, police said the children taken from the home appeared to be severely undernourished. The investigation is ongoing and is still being considered a death investigation. Investigators are still awaiting forensic reports, and information from the medical examiner including the cause of death, to determine if other charges will be filed. They said the 4-year-old is in critical condition, but stable at the latest check. Police said Wednesday that neither child "had obvious signs of trauma or visible injuries on the scene."
Another child, 17, was also removed from the home Tuesday and is in the custody of other family members, authorities said.
According to jail records, two people are in custody on aggravated child abuse charges. Frederick Antony Frink, 34, and Ashley Elizabeth Catron, 36, were both booked into the Madison County Jail around 5:30 p.m. Tuesday evening. They are being held without bond.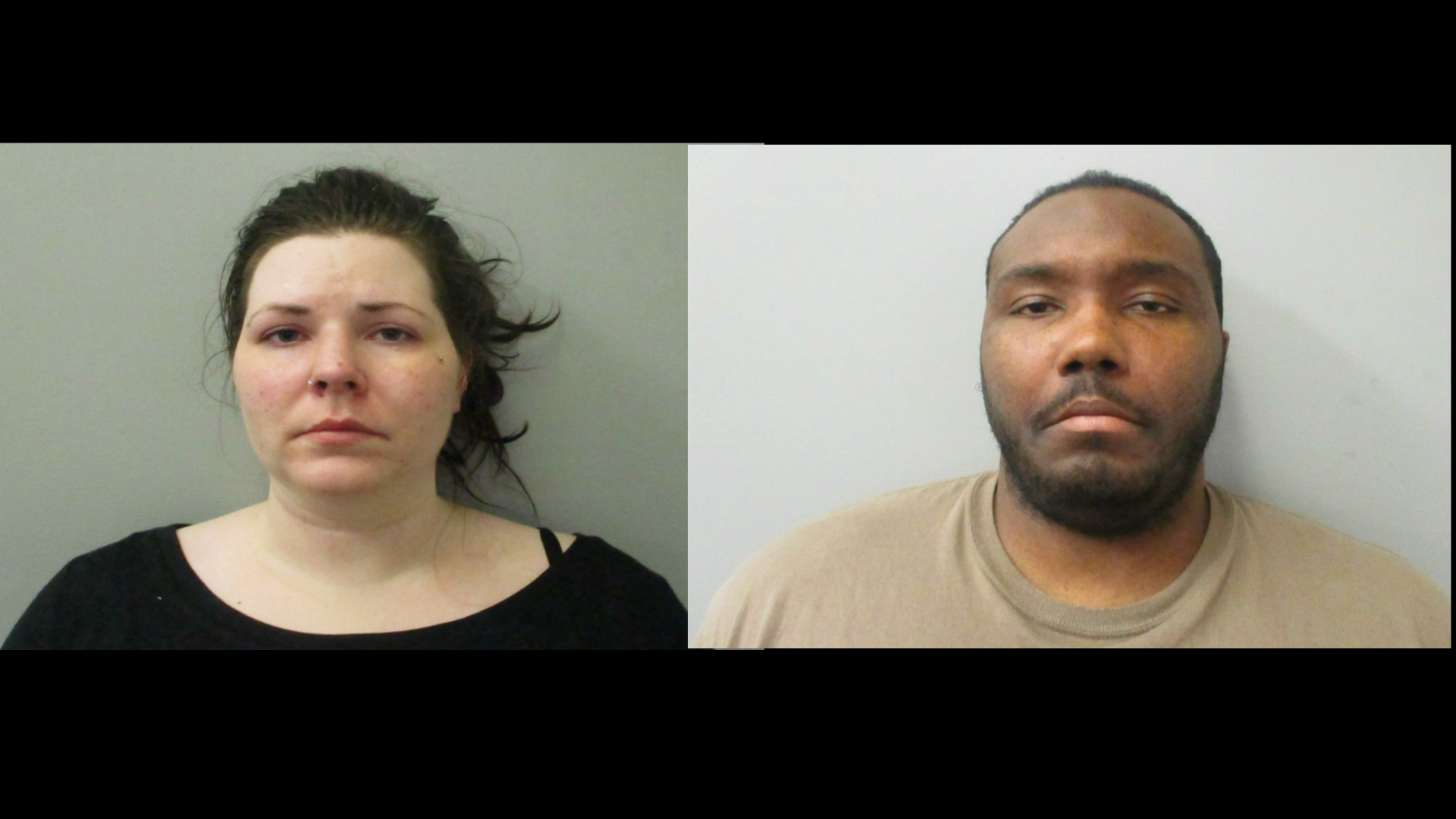 Police still have not disclosed what led them to the couple, what evidence they have that leads them to believe the children were abused, and what condition the children were in when they were found. They have not yet released details about what they believe was going on inside the home. But neighbors said they saw each child being removed from the house, and that one appeared severely malnourished.
Benjamin Johnson lived at, and now owns, the home next door. He said of Frink and Catron, "Whenever I saw them they were very friendly, very cordial."
He said the neighborhood is peaceful on any other day. He can not remember a time when he had a problem with his neighbors to the left.
"Zero problems. Good neighbors. Never had any issues, no disturbances. That is why this is very shocking to me," he said. "This is absolutely very disturbing. And to be the next door neighbor– I guess I'm more shocked than anybody else."
WHNT News 19 is also hearing from Frink's family members for the first time.
Ike Bailey, the homeowner's uncle, said of Frink, "He was brought up right and it doesn't run in the Bailey family, you know. We love children, all of us."
Bailey said he did not believe Frink would be capable of harming his child, telling us he believed Frink is a good dad.  He said Frink is in the national guard and has three kids. He hadn't seen him in a while, but he knew Frink loves his kids. His heart hurts for the young boy, and he said the arrest is shocking.
Neighbors tell us police officers, fire and rescue officials, and ambulances were all on the scene.