This is an archived article and the information in the article may be outdated. Please look at the time stamp on the story to see when it was last updated.
MADISON, Ala. (WHNT) -   With all the recent shootings involving the area's youth, it's important to remind kids that there are alternatives to violence.  A 'Stop the Violence' football game is scheduled at Discovery Middle School Saturday, and it's dedicated to Huntsville's latest victim 18-year-old Ashia Oliver.
Organizers want to reach out to the city's youth, especially during the summer time, to stop turning to violence as a problem solver.
The community has seen enough, from the recent shooting at Huntsville' Lydia Gold Skatepark to the latest teen death this week after a fight broke out at a Sunoco gas station. Organizers say there's better ways than turning to violence this summer while teens are out of school, like Saturday's football game to honor Oliver, who died after Wednesday's shooting.
Sylvester Redix organized the 'Stop the Violence' game, and also works with the Rocket City Titans.
He says, "we're using football as a way to give back to our community and show younger kids that they can use other things other than violence to try to get their point across."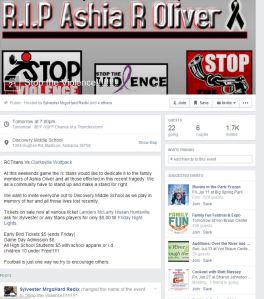 Redix says a few of the Titan's players were close with Oliver, so her death hits close to home for the team. As part of the North Huntsville community, he say's teens need positive things to do, especially during the summer.
"We, as a team, are trying to be a mentor to them. So, if they ever have any problems or need someone to talk to, they can always come to anybody on the team."
There are more things for kids to do Redix says, than to hang around and do things that get them into trouble.
"Football is a great way for kids to get involved in the community and it also gives them a chance to go to school."
Saturday's game is the Clarksville Wolfpack against the Rocket City Titans at Discovery Middle School. Tickets are $8 at the game or $5 if you stop by Landers Mclarty Nissan any time Saturday. Kickoff is at 7:00 p.m.
Another 'Stop the Violence' event is planned for Saturday. It's an anti-bullying 'Summer Fest' at the Richard Showers Center. That's from 12:00-5:00 p.m. There will be live performances, give-a-ways, food and games.