This is an archived article and the information in the article may be outdated. Please look at the time stamp on the story to see when it was last updated.
MADISON COUNTY, Ala. (WHNT) - Wednesday the Madison County Commission approved an agreement with the Madison County Board of Education to provide 4 deputies as school resource officers in the county.
The approved agreement will allow the assignment of deputies at Hazel Green High School, 1 at Buckhorn High School and 2 deputies to Sparkman High School and Ninth Grade Academy.
10 months of salaries and benefits for the resource officers will be paid by the school board from August 12 through June 6. The Madison County Commission pays the deputy salaries for two months of the year.
The Commission also approved Deputy Matt Cagle as a supervisory officer in a 8-hour-a-day 12 month position at Pace Alternative School on the central office campus.
While the board of education pays the bulk of deputy salaries the Sheriff's department is obligated to provide weapons, vehicles and training.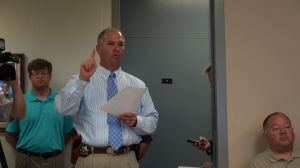 "But it provides us with something too," says Madison County Sheriff Blake Dorning. "It provides us with deputies on the scene at those larger schools and with that in mind it helps quell a lot of things that could become something that would be volatile."
In light of recent event where school safety was compromised and even students and teachers lost their lives, Dorning says parents and citizens in general have become more and more receptive to the idea of armed trained law enforcement inside schools. Dorning reminds we are not talking rent-a-cops here.
"Honestly these are some of our most senior deputies," he says. "They have multi-year experience and a lot of them had already been out in the field and we have some that have some investigative experience and they just had a calling to be an SRO."
Dorning says that "calling" should be another facet that puts parents at ease. He says the individuals who choose to be school resource officers have yearning to work with and mentor young people.
As part of a contract that was awarded earlier in the year Monrovia Middle School will also be gaining a new school resource officer.