This is an archived article and the information in the article may be outdated. Please look at the time stamp on the story to see when it was last updated.
HUNTSVILLE, Ala. — Huntsville is now big and bright enough that it can compete in terms of culture and color with cities like Birmingham, Chattanooga, and even Nashville. But just recently Huntsville upped its game in the color department.
Downtown Huntsville Inc. organized a series of microgrants with programs presented by PNC Bank and Hightower Twickenham to give artists, business owners, and creative minds alike the opportunity to leave their mark on the face of downtown Huntsville.
The whole idea: Low cost, high impact. The grants are designed to feed creative minds with just the right amount of cash to make a difference in downtown scenery.
What's new?
The Color Walk was envisioned by business owner David
Johnston. He wanted to turn the alleyway, which is often avoided by passerbys altogether, into something people could seek out as a colorful downtown staple.  The alley is between UG White and Clinton Row. What's unique about it? Instead of the entire wall of the building being painted, only the 100-year-old fixtures on the wall are painted, giving it a 3D effect. The city will be repaving the entire alley soon, making even the ground available for an artist to add some color.
The Big Spring Park East mural is definitely going to be Huntsville's number one picture pleaser for locals and tourists alike. The larger-than-life mural was created by Gracie Lenox Designs and comes with its own hashtag: #HelloHSV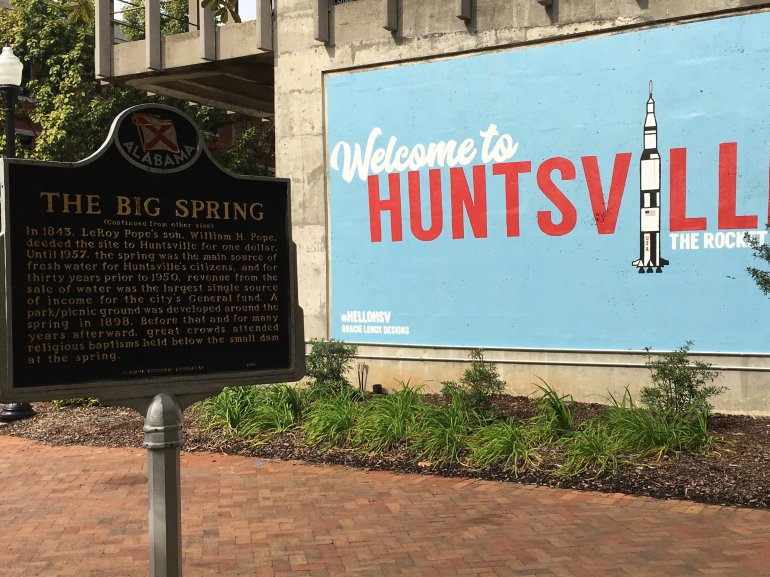 Have you found them yet? Ready, set go! Happy picture posting and hashtagging!