This is an archived article and the information in the article may be outdated. Please look at the time stamp on the story to see when it was last updated.
HUNTSVILLE, Ala. (WHNT) - The botanical nursery business is seasonal by nature, if you'll pardon the pun. But recent extreme cold weather in north Alabama is certainly taking its toll on plant purveyors' bottom line.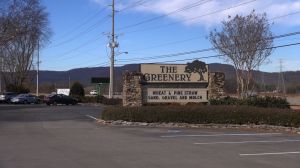 Eddie Ray, co-owner of The Greenery in the Big Cove community just east of Huntsville says January, February and the first of March are always the slowest months sales-wise. The nursery does sell a lot to landscapers even during the winter months, but Ray says those clients aren't even working right now.
"We are doing very little sales to landscapers because of the extreme cold and the ground is actually frozen, some," Ray says.
He says it gets really tight when you're not garnering any sales to speak of in the garden center. Luckily, the Greenery boasts landscape sales and a home store.  Ray says 40 percent of end-of-the-year sales come from holiday items sold in the home store.
Most work right now is coming from landscape maintenance; trimming of shrubs and trees, re-mulching and fertilizing.
The 8,000 or so Geraniums planted in the main greenhouse will certainly be a boon for the nursery come Spring, but keeping the plantings alive is of course the key - a greater challenge in extreme cold.
Everything looks nice and lush and green in the shrub house right now.  That's because of the supplemental heat pumped into green houses. That supplemental heat means extra expenditures.
"Oh, you don't want to know what our gas bill is," admits Ray. "It's outrageous."
In addition to its effects on the bottom line of business, Ray says avid and amateur gardeners alike might get quite the surprise this year.
"We are not used to having frozen ground around here that often, but this has been an extremely cold winter. The trees and the shrubs have not acclimated to that cold winter weather and that's when you can get a lot of damage."
Ray says over the past 10 or even 15 years, north Alabamians experiencing relatively mild winters have been lulled into a false sense of security; planting materials not at all suited for our zone 7 climate.
It is possible this recent quick-hit of cold will do leaf damage, mainly to broad-leaf evergreens, especially shrubs that are only winter-hardy to the edge of our usual winter lows.  Shrubs like Azalea and Boxwood could be affected, but with minimal damage. Nurseries, aware of hardiness zone maps, stock plant varieties suited to local weather extremes.
But Italian Cyprus, for example, is certainly not suited for the Tennessee Valley. Out-of-zone plantings that may have fared well in previous winters won't do so hot this time around, Ray says.
"I'm always warning people if it goes to zero degrees, they're history. People have done a lot of that and plants like that will show damage this winter," said Ray.
Extremes of freezing and thawing are more damaging to perennial plants than constant cold. Without a snow blanket, plant roots can be heaved above ground and freeze-dried, damaging or killing the plants. Mulch helps prevent this.
Symptoms of cold injury on evergreens include browning of the leaf tips and margins. The lower the temperatures and the longer the cold snap, the more this browning or "winter burn" progresses. Tip browning can advance into complete leaf browning and leaf drop. Beyond this is die-back of branches, starting with the tips and working down into the plant. In extreme, unusual and prolonged cold, the roots could die. Wrapping shrubs with burlap or some sort of wind break provides some protection from harsh, cold winds.
Once your plants start leafing out in the spring, you'll know if the cold caused any branch injury. Tips may remain bare while lower or inner branches push out new shoots. Trim the dead wood back to the live growth and let the plants fill back in.
With deciduous plants, meaning ones that drop their leaves, wait until at least early to mid May to assess growth from existing branches. Do the same pruning then, once shoots start popping out.
Some winters get cold enough that some borderline-hardy shrubs and evergreens die back to the ground. The plants look dead, but new shoots can poke up from the base from the roots which survived.
The lesson is, don't give up too fast and don't assume ragged plants are dead after other plants leaf out. Most borderline-hardy plants are the last to leaf out in spring. Play it safe. Follow the USDA Hardiness Zone recommendations. Gardeners sometimes play the game of pushing hardiness zones for the challenge of growing interesting plants they desire. Sometimes this works and they survive, but many times they croak over a harsh winter.
Eddie Ray says don't worry about spring bulbs that are dormant and protected from the bitter cold under a blanket of mulch.
You can find your exact Hardiness Zone on USDA's interactive hardiness zone website.