This is an archived article and the information in the article may be outdated. Please look at the time stamp on the story to see when it was last updated.
HUNTSVILLE, Ala. – The funeral service for Dr. Sonnie Hereford III was held Tuesday.  The retired physician and civil rights pioneer helped integrate Huntsville City Schools.  Hereford died on Thursday, July 7. "It is true that he has left footprints, not only here in the Tennessee Valley, but across the nation. We are here today standing on his shoulders. His shoulders of courage, his shoulders of perseverance," says Alabama A&M University President Andrew Hugine.
"He can't march anymore," says Sonnie Hereford IV with tears in his eyes. "He said that toward the end of his life. We have to do it and shame on us if we don't."
"We may lay him to rest but his departure does not end the battle. It's a call to a new generation to carry the mantle for all people, so I say to Dr. Hereford, well done my neighbor," says Rev. Dr. Wayne P. Snodgrass.
The service ended about 12:45 p.m. at Progressive Union Missionary Baptist Church. The funeral procession will soon go by the new Sonnie Hereford Elementary School, located at 2755 Wilson Street.  Vehicles will then proceed Maple Hill Cemetery for burial.
Dr. Hereford was a graduate of W. H. Councill High school, Alabama A&M University, and Meharry Medical College.
Dr. Hereford, 85, holds a special place in Huntsville's history.  In 1963, his son Sonnie Hereford IV became the first of four black students to attend a white public school in Alabama. "He returned over the next several days only to find the school locked and guarded by state troopers, dispatched by Governor George Wallace. Seeking help, Hereford contacted the federal judge that is," says Huntsville City Councilman Will Culver.
"I'm hoping that one day in my city that we're not going to see any racial distinction or any class distinctions," Hereford told a crowd in 2015.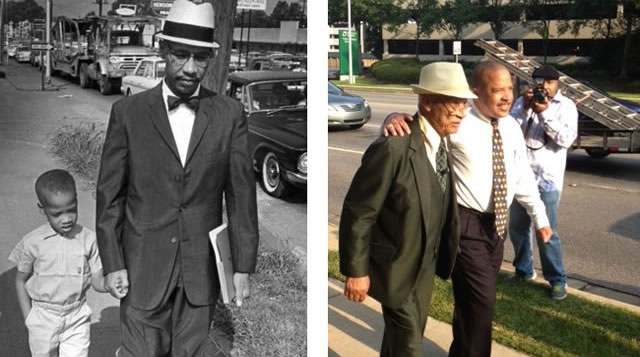 He was a retired physician in the Huntsville community, but he is most known for the iconic image of him and his son walking away from Huntsville's Fifth Avenue School in 1963. The photographer behind the picture, though, remains a mystery.
Sonnie Hereford Elementary is Huntsville's newest elementary school.  The ribbon cutting ceremony is scheduled for July 21st at 10 a.m.  It officially opens this fall.
He didn't just champion desegregation for schools.  "At one point even handing out leaflets at the Midwestern and Eastern Stock exchanges urging businesses not to invest in Huntsville, alabama until the city ended segregation," says Jack Ellis, who co-wrote "Beside the Troubled Waters" with Dr. Hereford.
That push led to Huntsville desegregating hospitals and other public places two years before the Civil Rights Act of 1964. While the service marks the end of Dr. Hereford's journey, his life's work isn't over.
Hereford is survived by his loving wife, Martha Adams Hereford; his son, Sonnie Wellington Hereford IV; five daughters, Kimela Hereford Mullins, Lee Valerie Harris, Linda Hereford Creighton, Brenda Faye Merriweather, and Martha Jacqueline Howard; nine grandchildren; and one great-grandchild.