This is an archived article and the information in the article may be outdated. Please look at the time stamp on the story to see when it was last updated.
HUNTSVILLE, Ala. - Drivers in Huntsville will soon have some new options to pay for parking spaces.
A contract on the agenda for Thursday evening's Huntsville City Council meeting would give drivers the option of paying by smartphone or credit card at about 400 parking spaces in the city.
"We've had a tremendous amount of growth downtown in the downtown area," said Tommy Brown, director of parking and public transportation for the city of Huntsville. "We're expecting continued growth in the downtown area, so these new technologies will bring a much easier situation to the downtown parking."
The contract with i3 Verticals will give drivers the ability to use an app called PassportParking to park. Users put money into an account on the app and use that to pay for parking. Drivers will enter their license plate number, so parking rules can be enforced.
The app also will remind drivers of their time left on the meter, and they also will be able to extend their time through the app.
"You can go to your meeting, go to your dinner, whatever you're doing," Brown said. "If you're running late or running behind, you don't have to worry about your parking session expiring or getting a parking ticket. The app automatically reminds you that your parking time is up and you can add additional time."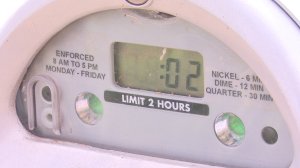 The city also plans to implement multi-space meters that will handle multiple parking spaces; Brown says one meter will be used for 10-12 parking spaces. Enforcement will work the same way: Drivers will enter their license plate at the meter, and they also will be able to extend their time through a phone app.
Brown says educating the public about these changes is very important; he knows it'll take a little bit of getting used to but he thinks these updates will benefit everyone here in Huntsville.
The new parking system is expected to go in effect early next year.
The app is available for iOS and Android, or drivers can manage their parking through the Passport parking website.