This is an archived article and the information in the article may be outdated. Please look at the time stamp on the story to see when it was last updated.
MADISON COUNTY, Ala. (WHNT) - Twenty-third Judicial Circuit Court Judge Billy Bell is finishing his term set to expire this month. Bell was first elected in 2002 and won a second term without opposition in 2008. This, after practicing law and handling thousands of divorce cases as an attorney and judge since 1972.
Monday morning, courthouse crews, Bell's law clerk and receptionist were busy packing 30 years of Madison County family law into boxes and relocating furniture and empty filing cabinets to the basement for storage.
"I've been on the Circuit Court bench for 12 years and I've seen a lot," Judge Bell said.
While the end of a career can be a bittersweet time for many retirees, Judge Bell says he's ready.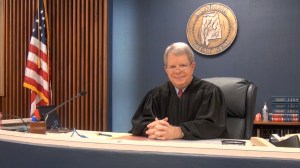 "I'm excited. I feel like I've done what the Lord wanted me to do here and when I retire, then I'm going to just follow wherever he leads me, and that's what I'm going to do. I'm going to volunteer in the community, I'll be able to be more active with my grandchildren. I'm blessed -- I've got three children and six grandchildren all here in Madison County -- and I want to pick my grandkids up from school. I want to go to all their sporting events," Bell said.
Bell says probably the best perk is that he'll be able to spend more time with his wife of nearly 35 years. They joke, Bell says, that being married to him is like being married in dog years -- he's ready, but is she?
"We better be praying for her," Bell laughs. "I'm going to be fine. I'm going to stay busy and I'm looking forward to it -- I'm really excited about it."
'There are no winners in divorce.'
Judge Bell is leaving the Madison County court system at a time when issues facing the district are as pressing as ever.  He also has some unfinished business.
We asked Judge Bell about the most difficult issues facing Madison County courts.
"Well, we are underfunded. We don't have enough space in the courthouse, and the County Commission is really great to work with us, but we are limited in what space we have available -- the court system is just terribly underfunded."
Bell says an analysis was conducted in Madison County when they were applying to get their latest circuit judge. He says the data indicated Madison County, boasting the highest case load in the state, needed 4.7 new circuit judges.
"And we were lucky to get one and the only way we got it is with the County Commission paying the cost of the judge and his staff for the first year," Bell admits of Madison County's 7th Circuit Judge.
Bell also says, as a reluctant participant in thousands of divorces over the years, there are some initiatives he wished he could have seen come to fruition.
Bell says he's always wanted to see stronger laws in place to promote and preserve healthy marriages.
"There are no winners in divorces.  Especially not your children.  Try to control your own destiny," Bell said. "The good parents, I don't generally see in my court. It's the ones that can't resolve their issues and they've got children who are caught in the middle and that's probably the most frustrating thing for me because I want to say, 'look, you've been blessed by God with these children, treat them like that.'"
Bell says after his election, he wrote then-Governor Bob Riley to propose some options on laws that could help promote long-lasting wedded bliss.
"Mandatory premarital counseling before you got married, and also an option for covenant marriage -- where the parties agree that they're going to, in covenant with each other, that they're going to be married for the rest of their lives."
As far as solutions for the issues of underfunding and crowding and docket overload, Bell can only say he hopes his successors have better luck in the future.
"They're a lot more complicated than what I'm smart enough to figure out. My specialty is family law. Those things that I discussed: strengthen healthy marriages up front, try to promote people staying together if at all possible. I see so many cases in my court room that really don't need to be there, that the parties, with a little effort and a little work, could save marriage."
No date has been set for the swearing-in of current District Judge Alison Austin as she prepares to take Judge Bell's Circuit Court seat.
Prior to her appointment in 2010 Austin worked as an assistant U.S. Attorney for the Northern District of Alabama for eight years and served for five years in the Madison County District Attorney's Office in the violent crimes division.
The Madison County District Court is among the state's busiest. The local court's four judges had 33,560 cases submitted in 2012, more than 8,000 per judge.
The Madison County Circuit Court has seven judges and it had nearly 12,000 new filings in 2013.