This is an archived article and the information in the article may be outdated. Please look at the time stamp on the story to see when it was last updated.
HUNTSVILLE, Ala. (WHNT) – A Limestone County Sheriff's Office chase led to a wreck on Old Monrovia Road near the Carmike 10 movie theater in Huntsville around 10:00 p.m. on Friday.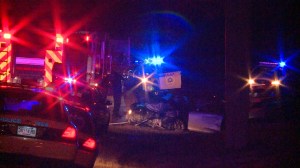 23 year old Lindarren Devance has been charged with Driving Under the Influence and Attempting to Elude. Officials say he will face additional charges in Madsion County.
The Limestone County Sheriff's Department says they were conducting a business check on U.S. Highway 31 near Calhoun Community College, when a vehicle driven by Devance spun out in a gravel parking lot and pulled out onto Highway 31. When the deputy attempted to stop Devance, he drove off, eastbound on I-565. Madison County Sheriff's Office and HPD also assisted in the pursuit.
The chase ended in the 6300 block of University Boulevard when a Madison County deputy was able to corner Devance. During the pursuit, we're told he ran many red lights and reached speeds over 115 miles an hour.
Two vehicles not involved in the chase were damaged in the wreck, including a Huntsville Police Department cruiser. HPD had been monitoring the pursuit as it entered the area. The officer then hit another motorist not involved in the chase. That officer was injured in that collision.
Both Devance and the officer were taken to the hospital with minor injuries. Devance is currently in the Limestone County Jail on $2,000 bond.