This is an archived article and the information in the article may be outdated. Please look at the time stamp on the story to see when it was last updated.
HUNTSVILLE, Ala. – After a Taking Action Investigation that lasted upwards of three months, prosecutors have finally dropped burglary charges against Steven McDowell, an Army reservist who was arrested based on security footage from two burglaries with no other meaningful evidence against him. Now, police have arrested a new suspect in the case.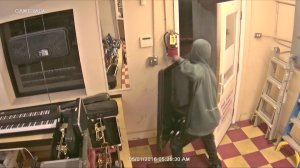 Police had relatively clear images of the man that burglarized both a Huntsville Utilities office and A-Pawn pawn shop on Blue Spring Road on May 1, 2016.
The Madison County District Attorney's Office maintained for months that the man in those images was PFC. Steven McDowell.
But, Steven and his family pointed out the differences they think are obvious. In their investigative report, Huntsville Police investigators noted they didn't think McDowell's mother, Tam Jackson, looked at the photos long enough to determine if it was, in fact, her son. She recalls it this way, "I looked at the picture and handed it right back to them cause it's like, how do you not know your own kid? Like, why do you need to study a photograph to see is this really my kid? Ya know? No. It's not him."
Jackson, who spoke to us throughout the investigation because McDowell was worried about damaging his case, points out that Steven's skin is lighter than the offender in the pictures, his eyes closer together, his lips lighter-colored and different sizes. She also pointed out a chicken pox scar on the left side of his face and his nose, which Jackson notes isn't the same size or structure of the burglar.
She told WHNT News 19, "I just want people to see that this isn't my baby."
McDowell's mother notes his skin is lighter and his eyes further apart than the man in the surveillance

McDowell specifically points to the shape of the two noses and Steven's chicken pox scar to the left of his nose, which the surveillance video doesn't show on the burglar

McDowell's mother also notes Steven's lips are a lighter shade and different shape than the burglar
Now, finally, prosecutors have agreed with her. The day after our first preview of this story went up on Facebook, Prosecutor Jeff McCluskey filed for what's called a "Nolle Prosse," meaning the DA's office would not prosecute the case. The motion documented that the DA's office had analyzed the photos time and time again, even attempting to have them enhanced to see if they could reveal Steven's distinctive chicken pox scar.
The next day, Steven's public defender filed a motion to dismiss the charges with prejudice because Steven is innocent.
The prosecutor in the case agreed and told WHNT News 19 he would do everything in his power to push through the dismissal, which was granted Thursday morning, the day our story was set to air.
Police have now arrested a new suspect in the case, Derrick Hines.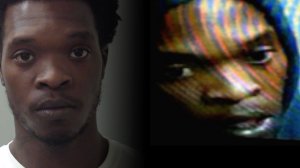 So how did this wind up on McDowell's shoulders for so long?
McDowell's former landlord, with whom he has a rough relationship, pointed him out after the surveillance picture aired on the news. The police reports show there were fingerprints found, but analysis of them was not included in the evidence against McDowell. The video shows the subject standing next to cases and door frames, but police never checked his height.
Investigators went to Steven's mother, who said it wasn't her son. Then, the police caught up with Steven outside Huntsville Hospital. His 2-year-old nephew was inside, on life support, dying. Police told him to show up to the precinct for questioning, but a lawyer advised him that he shouldn't.
After he didn't show up, officers issued a warrant for his arrest.
The surveillance video remained the only significant piece of evidence the prosecutor's office turned over to the defense during the discovery process, even after WHNT News 19 started asking questions.
Jackson says she knew the crime didn't match his character, "I couldn't put the two together. Like, my son, doing a burglary. I couldn't cause that's not in his nature. He's not like that."
After all, McDowell, a US Army Reservist who did a tour in Afghanistan, says he has no criminal history. A check of Alabama court records proved that as well. McDowell is married with a new job that he had trouble getting because of the burglary arrest.
Now that the charges have been dismissed with prejudice, McDowell has one challenge remaining — to get the charges expunged from his record which he wants to remain spotless.