This is an archived article and the information in the article may be outdated. Please look at the time stamp on the story to see when it was last updated.
HUNTSVILLE, Ala. – Chris Chance is humbled by the opportunity to serve as the Rocket City Swim Meet Director. This is his first year, but he does have some experience as a team leader. Chance is a decorated United States of America military veteran.
"I started out as an airborne infantryman at Fort Bragg, came up through the ranks and became a sergeant (E-5) there and was in charge of a team," said Chance. "I went to Korea and was promoted to staff sergeant and once again led a small team. I came back stateside and went to Army flight school, learning to fly helicopters. A total of 27 years later, I retired as a CW4."
That's the short story. Besides Korea, Chance has served his country overseas in Iraq, Afghanistan, Qatar and Egypt.
"My first combat was in 1991 during Desert Storm as a Sergeant (E5) scout team leader. My first combat flight was 2004 as a CW3 during Operation Iraqi Freedom as a recon pilot. My last combat trip was to Afghanistan in 2011 as a CW4 during Operation Enduring Freedom as a combat loss investigator (aviation CSI). I was also working on the graduate research project for my masters while on this trip, graduating just after my return."
Chance is always low-key about his service. When pressed, he acknowledges he was under fire in Iraq and Afghanistan. He then shares a photo taken of him in an OH-58D Kiowa Warrior just before taking off on a mission in Baghdad. He points out the friend beside him in the cockpit would lose his life serving his country in a subsequent flight.
Chance actually logged thousands of hours flying helicopter missions during his military career. The 1985 graduate of Evans High School in Orlando, Fla., retired from the Army at Fort Rucker in 2012 and moved to Huntsville with his wife Jamie and their two children, Mae Mae, 12, and Caleb, 14. Chance said they immediately joined Piedmont Pool and the Huntsville Swim Association.
"I retired from the military, but the real champ is my wife, who took our son to 23 swim meets in 2009 and 2010 while I was in Qatar. I took him to his very first meet and she did the next 23, solo."
Chance knows he has his hands full as RCSL City Meet Director, but points to the league's storied past as a pillar of support. He also has plenty of swim knowledge himself as a Meet Referee with USA Swimming.
The 50th RCSL City Meet is July 10-12 at the Brahan Spring Natatorium. The meet begins with the diving competition on Friday, July 10. The swim meet portion is July 11-12.
"All the people and volunteers before me have done such a great job of recording things and setting the stage for the 50th anniversary, I don't want to say it's on autopilot, but everyone has made it much easier to come in and work from what has been accomplished in the past," Chance said. "We have a very large group of talented volunteers and I have a great person working directly with me in Scott Thomas, who has the larger part of the job, really. He's responsible for coordinating all the volunteers."
Thomas is the City Meet Assistant Director. He is the Assistant First Vice President to the RCSL Board of Directors. Chance is the board's First Vice President.
Thomas, a senior mechanical engineer at Dynetics, graduated from UAH in 2000 with a BS in mechanical engineering. He received his masters in 2004 and is currently working on his PHD.
"To make this meet happen, it all comes down to the volunteers," said Thomas. "There's a lot that goes into it. You have all 18 teams in one facility for swimming. It's a huge venture. We had about 1,400 swimmers last year. It's great to see the parent volunteers all step up for the good of the kids. To see everyone come together like that is a unique thing to experience."
Thomas is a former swimmer and was an assistant coach for the Richmond County (Ga.) swim team. His wife, Amy, is a graduate of Westminster and a licensed councilor at Whitesburg Christian Academy. The Thomas' two children, James Hale, 10, and Katherine, 7, swim for Jones Valley. Amy is also a former RCSL competitor.
"Chris Chance and Scott Thomas have done an outstanding job of doing what it takes to put a meet of this magnitude together," said RCSL President Justin Olander. "We appreciate all parents who put in all the countless hours to make this all happen."
The always exciting city diving championships begin at 9 a.m. on July 10, with the younger competitors springing into action first. The meet breaks for an hour at noon, before the older divers compete though the afternoon. The meet culminates with the open division.
More than 100 athletes from five city pools will compete for individual and team titles. Divers in the city meet range from ages from 5 to 19. Greenwyche Pool is the defending city dive champions.
The city swim championships features 18 teams from pools all around Madison County, plus the special needs team swimming in an exhibition freestyle event. Since this event is so large, each pool has a tent located outside the Natatorium. Ten-and-under swimmers start both days at 8:30 a.m. The older athletes compete in the afternoon.
This is the largest swim meet each year in the county. The teams compete in five dual meets on a home and away basis during the regular season.
Some of the dual meet records already set this season include Riley Groves of Redstone setting both the 50-yard (32.21) and meters (36.47) record in the boys age 9-10 backstroke.
Sarah Margaret Cimino of Blossomwood set a 50-yard butterfly (26.49) and backstroke (27.82) record in the girls age 15-17 division.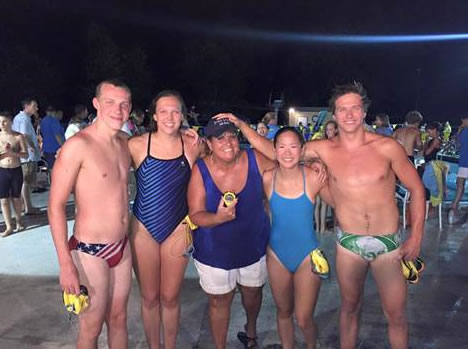 Byrd Spring broke a 33-year-old 200-yard mixed relay record in the age 15-17 division with a time (1:37.69) set by Joe Hinely, Mary Northcutt, Chloe Hui and Sam Vasquez.
Caleb Chance, Alexander Nurre, Ethan Wan and Benjamin Werth of Piedmont clocked a record (1:52.79) in the boys age 13-14 200-yard medley relay.
Piedmont's Anna Monk, Anna Kathryn Schloss, Marybeth Monk and Cole Elizabeth Strankman timed a new standard (2:01.47) in the 200-yard age 13-14 girls medley relay.
The Natatorium indoor facility, located at 2213 Drake Ave., offers bleacher seating for spectators. The meet features electronic timing and is free to view. Concessions and memorabilia will be on sale all around the complex.
City meet swimmers compete in the four basic strokes for individual boys and girls age-group titles: freestyle, breaststroke, butterfly and backstroke.
Three swimmers per team can compete for points in each event and no swimmer can participate in more than three individual preliminary events. The top 16 from the prelims swim again in the finals. The 16 finalists are individually introduced and led to the blocks with a rock concert atmosphere.
Nobody is left out, though. Swimmers who don't make the top three in any of the four events can compete in the freestyle exhibition event.
Top swimmers also compete for points in team medley, mixed freestyle and freestyle relays. Like the exhibition swims, these are all finals. All pools have four swimmers on each of their relay teams. There are both boys and girls competition, except for the mixed relay. This exciting event includes each respective team's two fastest boys and girls on the same relay squad.
Team points are tallied to see which pool wins the overall team title. Piedmont Pool is the defending team champion. The Piranhas also won in 2013. Greenwyche claimed the title in 2012. The first city meet was held on Aug. 14, 1965, and won by Whitesburg.