This is an archived article and the information in the article may be outdated. Please look at the time stamp on the story to see when it was last updated.
HUNTSVILLE, Ala. (WHNT) – The Central Volunteer Fire Department is being evicted from one of its stations. The department has leased the property from a family for more than 20 years but has been told, it's time to go.
The selfless volunteers are trying to put out a smoldering issue while serving the community the highest possible standard. The department must now build a new station following a notice from the Ragland Brothers Property.
"We were on a 20 year lease," said Central Volunteer Fire Department Chief, Howard Thompson. "A dollar a year for 20 years and it ran out in 2012, and no one knew that."
Since February the station on Dug Hill Road has overstayed its welcome.
"We purchased this land on Ryland Pike and we are going to build another station 2 which is a satellite station to meet our ISO needs," said Thompson.
Financially, the department is strapped. For three stations, they receive roughly $96,000 from the 3 mill property tax. This year the community has donated roughly $26,000 to help the station operate.
"It's going to take $100-150 thousand just to build a station," said Thompson.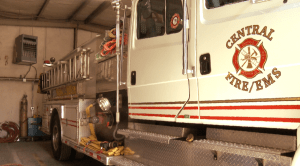 According to Chief Thompson, the building was built in 1992 for $16,000 by the county. Now along with that 20 year lease, they are going to be vacating the building and leaving it. He says the whole thing is a financial burden they didn't expect.
"It took the wind out of us because basically we've been saving to upgrade our fire apparatuses to get rid of some of the 1980s stuff we have," explained Thompson.
So far, there's land cleared but that's all. The Ragland family told the department they have plans to utilize the building for their own needs.
"If we have to get out immediately we have nowhere to house our engine. We will have to put them in the rest of the district at our other stations and that will impact the calls," said Thompson.
District 3 Commissioner Eddie Sisk has promised roughly $100,000 to the Central Volunteer Fire Department.