This is an archived article and the information in the article may be outdated. Please look at the time stamp on the story to see when it was last updated.
HUNTSVILLE Ala. — HIV rates are declining in the United States due to prevention efforts and awareness, except for in the Deep South. The Centers for Disease Control and Prevention say southern cities now have the highest rates of new infections nationwide.
The CDC reports that in the decades since the first AIDS cases were reported in Los Angeles and New York City in 1981, the epicenter of the nation's HIV epidemic has shifted from urban centers along the coasts to the 16 states and District of Columbia that make up the South. The South now experiences the greatest burden of HIV infection, illness, and deaths of any U.S. region, and lags far behind in providing quality HIV prevention and care to its citizens.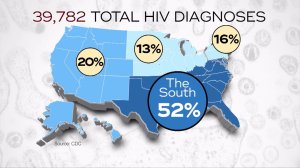 "We just have, in the South, a tendency to put our heads in the sand about certain difficult issues, and sex is one of those issues," said Mark Moore, the Director of Development and Marketing at Thrive Alabama, a healthcare nonprofit which provides care in north Alabama.
The CDC says of the nearly 40,000 cases diagnosed each year, more than 50% are in the southern states. Moore said there are many reasons for this. He said it starts with education.
"There's definitely a lack of education in schools, and also parent to are just afraid to talk about the ins and outs of sex, and how to protect themselves," Moore said.
He said another reason the rates of HIV are higher in the South is because of the stigma attached to the diagnosis.
"People want to attach a lot of judgment to it," Moore said. "And so it makes people afraid to get tested, afraid to seek out care."
He said many people think it can't happen to them.
"HIV knows no barriers, as far as sexual orientation, race, religion, socioeconomic status," Moore said. "HIV can affect anybody."
To combat HIV and other sexually transmitted infections, Thrive Alabama will be launching an HIV and STI testing vehicle called the Thrive Mobile on April 10th. Moore said it will be a 33-foot clinic on wheels to help provide information, testing, and treatments.