This is an archived article and the information in the article may be outdated. Please look at the time stamp on the story to see when it was last updated.
HUNTSVILLE, Ala. – The Thin Line Support hosted a candlelight prayer vigil for fallen HPD Officer Billy Clardy III.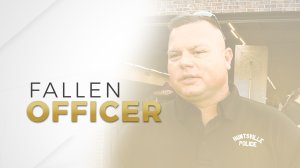 The vigil was Sunday, December 8, at 5 p.m. at the Huntsville Police Department Fallen Officers Memorial statue. HPD's main precinct is located at 815 Wheeler Avenue NW.
HPD Chief Mark McMurray, Huntsville Mayor Tommy Battle, members of The Thin Line Support, and members of the community attended the vigil.
Ernest Brown, a chaplain for the Arab Police Department, also attended the vigil and said it's important that law enforcement officers have someone to talk to when they need it.
"My role has been as a support to those men and women who serve in the department and their pressures are unbelievable," said Ernest Brown.
He and his wife drove to Huntsville to support the hurting community.
"This gentleman was doing his job and lost his life and his family and children, it's just overwhelming," Brown added.
Since the news of Clardy's passing thoughts and prayers have circulated. Brown said even when people stop sending condolences, there's a light shining on the Clardy family that will never burn out.
"We want to say 'I know how you feel,' but we don't know how they feel," Brown explained. "But our father in heaven does and we believe that He is able to be a very present help to them."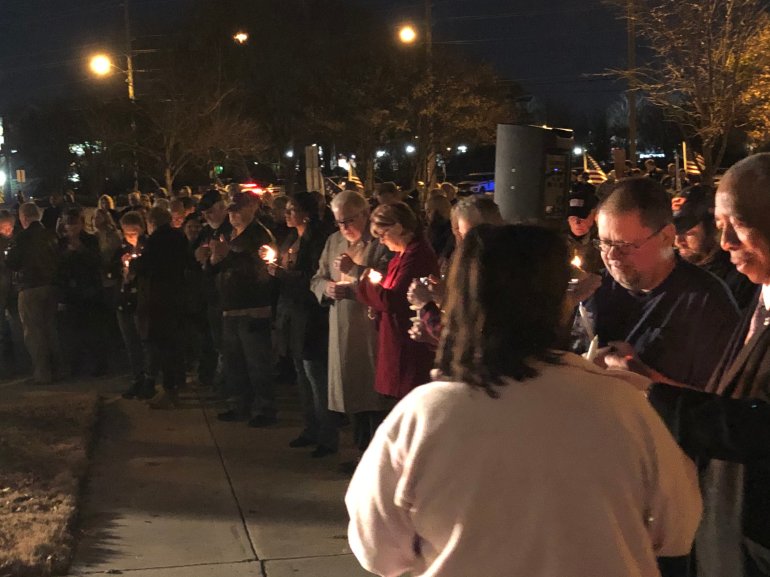 Officer Clardy was shot outside his bulletproof vest during a drug buy set up by strategic counterdrug team (STAC) agents at a house on Levert Street on Friday.
Clardy was taken to Huntsville Hospital in critical condition, and HPD Chief Mark McMurray said Clardy died later Friday night.
Those who worked with Clardy closely said he was a dedicated officer.
Clardy's funeral will be Tuesday, December 10, at Mayfair Church of Christ located at 1095 Carl T Jones Drive. Public viewing will be from 12 p.m. until 2 p.m. with the service to follow.
Change of plans for locale of Services: Services will be Tue Dec 10th at Mayfair Church of Christ 1095 Carl T Jones Dr Hsv Al 35802 Public Viewing 12-2P, service to follow. @whnt @waff48 @WAAYTV @rocketcitynow @aldotcom @USAttyTown @mcsosheriffAL @LimestoneCoSO @madisonpoliceAL

— Huntsville Police (@HsvPolice) December 8, 2019
The Madison Police Department tweeted on Sunday that they will cover Huntsville Police calls west of the Madison City limits on Tuesday to allow HPD officers to attend Clardy's funeral services.
Madison PD will cover @HsvPolice calls for service in their jurisdiction west of the Madison City limits on Tuesday to allow HPD Officers to attend funeral services for HPD STAC Agent Billy Clardy, III. A true American Hero. pic.twitter.com/TsMwtLtC8U

— Madison Police Dept (@madisonpoliceAL) December 8, 2019