This is an archived article and the information in the article may be outdated. Please look at the time stamp on the story to see when it was last updated.
HUNTSVILLE, Ala. (WHNT) - Children in the Cavalry Hills neighborhood have a new, improved playground just in time for summer.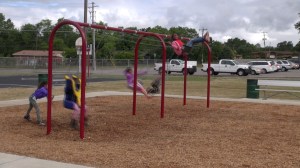 Located on the site of the Academy for Academics & Arts, the playground needed a complete renovation. It is also adjacent to the Cavalry Hills Community Center, which provides a host of recreational activities. Huntsville City Schools and the City of Huntsville's Parks & Recreation Department elected to share the $50,000 cost of improvements. They include:
Removing the old playground
Adding a sidewalk perimeter
Installing new playground equipment and safety surface
Renovating the basketball courts
Adding park benches
Adding security cameras
Renovating the access from the center/school to meet ADA requirements
"This is another example of our continued partnership with Huntsville City Schools to improve our community spaces," says Mayor Tommy Battle. "This playground benefits the children of AAA, the community center and the neighborhood."
The playground renovation was initiated by Yvonne Holley, a member of the community, who brought the issue of worn out rusty playground equipment to the attention of the city and the school board. In addition to Huntsville City Schools Operations, city departments involved in the project include: Parks and Recreation, General Services - Facilities Projects, Engineering, Public Works and Landscape Management.