This is an archived article and the information in the article may be outdated. Please look at the time stamp on the story to see when it was last updated.
HUNTSVILLE, Ala. (WHNT) — Tommy's Pizza closed its doors for good, marking the end of a dream and leaving the owner with a bad taste in his mouth.
Tommy Bergin opened the pizza shop at the Bridge Street Town Centre five years ago. Bergen says in the last year profits began to sharply fall off nearly 40 percent. He said it was due to the property managers refusing to work with him and other tenants and the effects of construction near his business.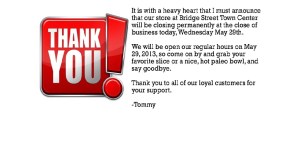 The food court has several empty store fronts next to where Tommy's was located. We reached out to Bayer Property management for comment about this story but our calls were not returned.
Bergin said property managers raised his rent and would not work out a rent reduction despite the impacts of the construction going on at the property currently.
There is no plan to open Tommy's Pizza at another location at this time. Bergin thanks all of his loyal customers. If you would like to reach out to Tommy you can contact them on Facebook: CLICK HERE