This is an archived article and the information in the article may be outdated. Please look at the time stamp on the story to see when it was last updated.
HUNTSVILLE, Ala. (WHNT) — Straight to Ale brewing company based in Huntsville is doubling their fermentation capacity which is a good sign the popular brews they create are doing well on the market.
Straight to Ale joined Alabama's growing beer scene in 2009, and now increased demand for their product across the state and in three other territories is forcing them to grow, a problem they are happy to have.
"We are much more than a local town brewer now, we are in four states and our brand is growing," co-founder Daniel Perry told WHNT News 19 Friday.
Straight to Ale is in the process of installing four 120-barrel fermenters at its 10,000-square-foot brewery on 3200 Leeman Ferry Road. The Huntsville brewery is currently supplying beer throughout the state, Florida, Tennessee and parts of Mississippi.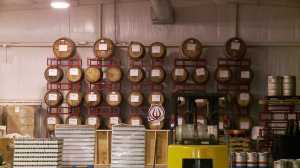 "This expansion will allow us to brew more for Alabama customers," said co-founder Daniel Perry. "It will allow us to satisfy the increased demand here for Alabama and also allow us to open up the state of Mississippi completely."
Perry, who said the brewery has invested about $150,000 in the expansion, said Straight to Ale's next goal will be to enter the Atlanta market by next year.
IBISWorld, Inc. reported last week that the $3.9 billion U.S. brewing industry grew at a rate of 10.9 percent over the past five years. That rate of growth is expected to slow to 7.2 percent from 2013 to 2018.
The Alabama Brewers Guild projects 38,944 barrels of beer will be produced in Alabama this year, up 102 percent from 2012. The brewing industry has doubled in size in each of the last three years and is expected to double again this year.
(Our news partners at The Huntsville Times contributed to this report)