This is an archived article and the information in the article may be outdated. Please look at the time stamp on the story to see when it was last updated.
HUNTSVILLE, Ala. - Federal and local law enforcement agents have announced the arrest of 30 people in a long-running conspiracy to distribute cocaine in north Alabama.  Three more arrests are expected.
The arrests come through a joint investigation by the U.S. Attorney's Office, FBI, Huntsville Police and Decatur Police Departments.
"The arrests today, and the volume of drugs seized highlight the potentially devastating impact this criminal enterprise had on Madison-Morgan County and the surrounding area," said FBI Special Agent in Charge Roger C. Stanton. "I particularly want to thank the Decatur Police Department and the Madison-Morgan County HIDTA Task Force (STAC) for their outstanding work in bringing this case to fruition. The public should rest assured knowing that the FBI and our partners will continue to root out these kinds of significant criminal enterprises."
Most of the defendants live in the Huntsville-Decatur area and are charged with conspiring to distribute and to possess with intent to distribute cocaine from January 2013 to March 2015 in Madison and Morgan counties.  The 33-count indictment also includes 26 counts of using a telephone to facilitate the drug conspiracy.  Marcus Mondez "Bubba" Lampkin, 42, of Decatur, is cited in all 26 telephone counts.  He is accused of making calls with 26 of the other suspects.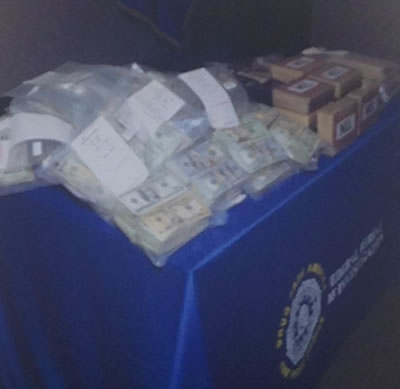 Agents seized $468,250 cash, more than 38 kilograms of cocaine and three firearms.  During Wednesday's arrests, four more handguns and one rifle were seized.
"Numerous officers and agents have devoted countless hours to this investigation, and the arrests made and drugs seized are evidence of their hard work and dedication," said Huntsville Police Chief Mark McMurray. "The Huntsville Police Department is proud of the relationship we share with our neighboring agencies, as well as those at the state and federal level. Without these relationships, today's success would not have been possible. I particularly want to thank the members of the HIDTA Task Force (STAC) for the outstanding job they do on a daily basis serving our community in the fight against drugs."
"These arrests and drug seizures represent a significant impact on drug trafficking in our community and the surrounding area," said Decatur Police Chief Ed Taylor. "We are very pleased at the success of this operation that highlighted the partnership of several area agencies, the Madison-Morgan County HIDTA Task Force, the Decatur Police Department and the FBI, working together to combat a  significant drug-dealing enterprise," he said. "This successful operation represents hundreds of hours of dedicated work by many law enforcement officers, all of whom should be commended for making our community a better place to live and work."
Police say numerous officers and agents devoted countless hours to this investigation.   The people indicted are:
Michael Gregory "Udo" Smith, 31, Decatur
Xavier Rashaad "June" Joyner, 32, Decatur
Jermaine "Main Main" Cunningham, 37, Decatur
Lamond Frederick "Lemon" Boykin, 39, Decatur
Clifford Orr, 63, Decatur
Emeka Kennge Foster, 38, Decatur
Andre Lasalle "Put" Cater, 43, Decatur
Brandon Dewayne Fennell, 33, Decatur
James Earl "Little James" Mitchell, 21, Decatur
Roderick Cornelius "Rara" Cunningham, 33, Decatur
Valerie Annette Lynch, 27, Decatur
Marcus Dwayne "Butch" Trammell, 45, Decatur
Almon Jarie "Beetle" Lampkin, 33, Decatur
Frederick Eli "Poochie" Brown Jr., 35, Decatur
Natasha Marie Lampkin, 35, Decatur
Latonya Roshelle "Punkin" Elliott, 27, Decatur
Rashod Martel "Rara" Lampkin, 23, Decatur
Leon Tremayne "Ears" Teague, 39, Decatur
Anthony Dawson "Billy D" McComb II, 32, Huntsville
Sun Rajon Woods, 21, Huntsville
Quindarrius Untarrio "OG" McCants, 26, Huntsville
Daniel Leon Worsley, 30, Huntsville
Darion Deonte "Red" McClendon, 27, Huntsville
Demarcus Antwan Toney, 31, Huntsville
David Earl Hardin, 45, Huntsville
Marshall "Tweetie" Hughes Jr., 42, Huntsville
James Cortez "Punkin" Timmons, 26, Huntsville
Harvey Jabor "Jabar" Freeman, 43, of Madison
Thomas Anthony Strong, 22, of Athens
Darik Oneal Sharpley, 36, of Hillsboro
Felita Vaughn, 38, of Florence
Gary Wayne Adams, 46, of Baton Rouge, La.
The four Lampkins are related.  Of those listed above, authorities are still seeking Xavier Rashaad "June" Joyner, Darik Oneal Sharpley and David Earl Hardin.
Mug shots of those facing federal charges aren't readily available. But WHNT NEWS 19 has gathered several mug shots of those listed above. Each of these is from a previous crime.
Marshall "Tweetie" Hughes Jr., 42, Huntsville (Image: Madison County Metro Jail)

James Cortez "Punkin" Timmons, 26, Huntsville (Image: Madison County Metro Jail)

Quindarrius Untarrio "OG" McCants, 26, Huntsville (Image: Madison County Metro Jail)

Daniel Leon Worsley, 30, Huntsville (Image: Madison County Metro Jail)

Darion Deonte "Red" McClendon, 27, Huntsville (Image: Madison County Metro Jail)

Demarcus Antwan Toney, 31, Huntsville (Image: Madison County Metro Jail)

David Earl Hardin, 45, Huntsville (Image: Madison County Metro Jail)

Almon Jarie "Beetle" Lampkin, 33, Decatur (Image: Madison County Metro Jail)

Xavier Rashaad "June" Joyner, 32, Decatur (Image: Madison County Metro Jail)

Emeka Kennge Foster, 38, Decatur (Image: Madison County Metro Jail)

Brandon Dewayne Fennell, 33, Decatur (Image: Madison County Metro Jail)

Anthony Dawson "Billy D" McComb II, 32, Huntsville (Image: Madison County Metro Jail)

Sun Rajon Woods, 21, Huntsville (Image: Madison County Metro Jail)