This is an archived article and the information in the article may be outdated. Please look at the time stamp on the story to see when it was last updated.
HUNTSVILLE, Ala. (WHNT) --  A cross-country journey to help a Birmingham boy enters Huntsville Wednesday and local cyclists are encouraged to ride along for Gabe.
Gabe Griffin, 9, was born with Duchenne Muscular Dystrophy (DMD), a genetic mutation that brings with it weakness and muscle degeneration. It's the most common form of muscular dystrophy in children, affecting boys almost exclusively. According to one report, an estimated one in 3,500 boys nationwide develop DMD.
There is no cure for Duchenne Muscular Dystrophy. While a promising drug has been shown to slow the progression of the disorder, it is in the early stages of clinical trials and not available in the US.
Most children with DMD will be confined to a wheelchair before their teens. While life expectancy has increased, no one has survived Duchenne and most patients die by their mid-twenties.
Gabe's parents, Scott and Traci Griffin, want to raise awareness and donations to support research they hope could one day cure Gabe and other children suffering from the disorder.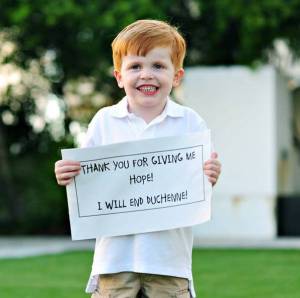 They started the Ride4Gabe with the help of two cyclists, Michael Staley and Wes Bates. Their group arrived in Lacey's Spring Tuesday. Wednesday, the cyclists will ride through Huntsville on their way to Birmingham.
"At the age when a little boy begins to fully develop into a man with strong muscles, Gabe is going to be experiencing the opposite," said Michael Staley. "Wes and I feel led to educate people about this disorder and we believe that Duchenne can be stopped. And Gabe's life can be saved."
Staley and Bates are doing the Ride4Gabe trek for 35 days across 11 states. It's run by the Griffins' nonprofit foundation called Hope for Gabe. The cyclists average 85 miles each day. They expect to finish in Mobile on August 14th. On the way, they are collecting donations and encouraging cyclists across Alabama to come join them.
Any money raised during the trip will benefit Duchenne Muscular Dystrophy research and awareness. For more information, including a live map of Staley and Bates' location and ways to donate, click here.