This is an archived article and the information in the article may be outdated. Please look at the time stamp on the story to see when it was last updated.
HUNTSVILLE, Ala. – There's no missing it — Big Spring Park is going through major construction until early next year.  That's prompted several questions to the WHNT News 19 newsroom — first, what's happening there, and second, what about the wildlife?
The ducks and fish are still doing well.  Many of the ducks have been sent for an extended vacation, although you'll still see some of them on the east side of the park.  Others have been relocated for now to Hays Nature Preserve and Goldsmith-Schiffman Preserve.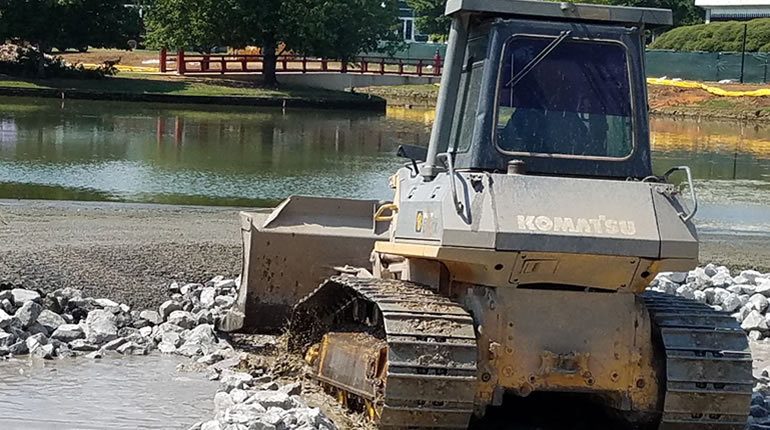 "Just to kind of bring the population down some, so they aren't impacted by the construction, we did locate some out to the nature preserves," said City Administrator John Hamilton.
Don't fear.  Your feathered friends will be back.
"We fully expect the ducks will migrate back in," said Hamilton.
The fish are still in the pond, despite all the construction.
"We're monitoring them very closely, and so far we've not seen any ill effects with the fish," said Hamilton.
The water has been lowered, and as crews make noise around the edge of the rock, the fish will naturally move away.
Hamilton says the renovation will change the way the water flows.
"It's shaped in a way that the pond will keep itself cleaner in the future," Hamilton added.
The renovations to Big Spring Park are scheduled to be finished by Spring 2017.  Panoply is the last weekend of April, and the goal is to have the park ready for the arts festival.
Photo of the construction area, taken from The Summit at Big Spring (David Little)

Photo of the construction area, taken from The Summit at Big Spring (David Little)

Photo of the construction area, taken from The Summit at Big Spring (David Little)

Photo of the construction area, taken from The Summit at Big Spring (David Little)

Photo of the construction area, taken from The Summit at Big Spring (David Little)