This is an archived article and the information in the article may be outdated. Please look at the time stamp on the story to see when it was last updated.
MADISON COUNTY, Ala. (WHNT) - Former Discovery Middle School Band Director John Nash was supposed to learn Wednesday whether he could continue to be paid by Madison City Schools during his criminal proceedings.
Nash was placed on administrative leave with pay in July of last year, charged with a violation of Alabama's mandatory reporting law.
Nash's attorneys previously filed a motion for a preliminary injunction on the plans to fire him.  Wednesday, that motion was withdrawn.
John Nash is eligible for retirement benefits in February of 2014. His attorney argued if the school system does not give him time to handle his criminal case, he will not be able to properly defend himself and that, they say, would cause him to lose his possible benefits.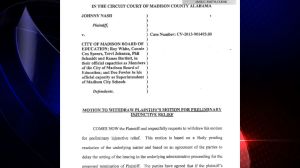 Nash's criminal defense lawyer, Brice Callaway, tells WHNT News 19 Nash's lead civil attorney Tricia Prather withdrew the preliminary injunction Wednesday in hopes of a likely pending resolution and an agreement of the parties to delay the hearing for Nash's proposed termination from the Madison City School System.
The parties in the case have agreed that if a resolution is not met for any reason, Nash will have an opportunity to re-file his motion for a preliminary injunction.
The delay in the administrative hearing will be for at least 30 days. Court documents show no new trial date has been set for John Nash.