This is an archived article and the information in the article may be outdated. Please look at the time stamp on the story to see when it was last updated.
HUNTSVILLE, Ala. - AT&T Alabama says AT&T Fiber is coming to the Greater Huntsville area, including parts of Madison. Eligible customers and small businesses can connect to a 1 gigabit internet connection on AT&T's 100% fiber network.
The Huntsville area is one of 67 large cities where AT&T Fiber service is available.
AT&T Alabama President Fred McCallum made the announcement Tuesday at the AT&T/DirecTV Center on Diamond Drive.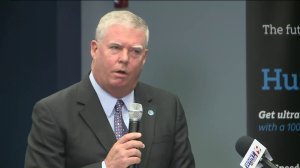 "We are proud to deliver AT&T's fastest internet to our customers in the greater Huntsville area, offering enriched experiences as our customers increasingly interact with their world in more data-intensive ways," said McCallum. "At AT&T, we are committed to innovation and providing cutting-edge technologies such as our ultrafast internet speeds that will enhance the many ways our customers live, work and play."
The service will be available this month in certain areas.  AT&T started making fiber available in certain areas over the summer, as a small rollout, and plans to launch it to more customers in October.  Some customers in eligible areas have already received mailers and advertisements to sign up, a spokesperson said.
---
Are you eligible for AT&T Fiber? Visit att.com/fibermap and put in your city, then zip code on the next screen and follow the steps.  You can also pull up att.com/internet/gigapower.html to check availability.  If you're not in an eligible area yet, sign up to receive updates from AT&T here.
---
Area leaders applauded AT&T during Tuesday's announcement.
"Huntsville is home to some of our country's most innovative companies and continues to develop as a premier tech hub," said Tommy Battle, Mayor of Huntsville. "AT&T's continuing infrastructure investment and launch of ultra-fast fiber internet are instrumental to Huntsville becoming a Gig City and offering residents and businesses additional resources to thrive in today's digital society."
"It is exciting to have AT&T already fulfilling the promise it made less than a year ago to bring ultra-fast internet to Huntsville and surrounding communities," said Alabama House Speaker Mac McCutcheon. "New technology offers economic growth opportunities and enriches the quality of life for residents and business owners. I applaud AT&T's continuing investment in Madison County and throughout Alabama."
"Increased access to high-speed internet is an important ingredient for our flourishing local tech community," said Troy Trulock, Mayor of Madison. "AT&T is the first major provider to offer these speeds to area residential customers. AT&T's ultra-fast internet is a welcome addition to our city and state."