This is an archived article and the information in the article may be outdated. Please look at the time stamp on the story to see when it was last updated.
MADISON, Ala. –  In Alabama, all cats, dogs and ferrets are required to have a rabies vaccination. The Alabama Department of Public Health is reminding residents of the grave dangers of rabies by deeming next week, June 15-19, 2015 as  'Rabies Awareness Week.'
Madison Veterinarian Doug Woods takes rabies very seriously and urges all pet owners to do the same.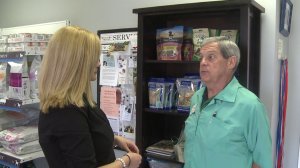 "It is 100 percent fatal if it's not treated early, if you do not know you've been exposed it reaches the nervous tissue and as I understand it... they have not been able to save anyone yet," said Dr. Woods.
Dr. Woods says don't wait until it's too late because of this harsh reality.  The only way to check an animal for rabies is to remove their head and examine the brain.
"There are some pretty stiff penalties, you could even lose your pet, so if you don't keep them vaccinated and they should bite or scratch someone... the one who is bitten could require that the head be taken off and checked for rabies and the law is on their side.  If they're vaccinated the law is on your side," said Dr. Woods.
The rabies vaccine is critical to keep your pet safe and you as well.
"Our pets are our barrier between us and the rabies we know is present in the wildlife population; the raccoons, skunks, foxes, bats.. [pets] provide a protective barrier so to speak. If they are protected we are less likely to pick up the rabies," said Dr. Woods.
For more information or to schedule a rabies shot with Dr. Woods click here.