This is an archived article and the information in the article may be outdated. Please look at the time stamp on the story to see when it was last updated.
HUNTSVILLE, Ala. – A group spoke out Tuesday about the recent arrests of approximately 40 immigrants by U.S. Immigration and Customs Enforcement (ICE) between March 17-19.
The Alabama Coalition for Immigrant Justice is calling for the immediate release of the "Alabama 40." The immigrants were arrested in Huntsville, Decatur, Athens and Hartselle and are being held in jails in Madison, Morgan and DeKalb counties as they await transport to regional ICE detention facilities in Louisiana and Ohio.
"ICE carried out not only a brutal, but what appears to have been an illegal operation in north Alabama, including Huntsville, Decatur, Madison, Athens and Hartselle. We've heard reports of people breaking in to people's houses," said Rev Dr. Ellin Jimmerson, leader of the Huntsville/Madison County ICE Free Jail Project. "There have been 40 people removed from their families without any warrants. ICE has already told us this. There were no warrants, which in and of itself makes this illegal. You must have a warrant to seize someone, it has to have that person's name on it, an address where you expect to find them, and the warrant has to be signed by a judge. This didn't happen, so we've got 40 people who have been taken from their families and communities. Our goal today is to see that the Alabama 40 is released immediately."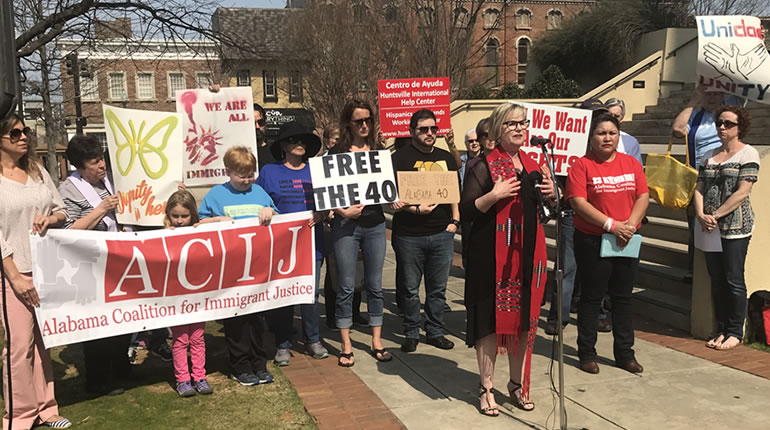 The group also plans a prayer vigil tonight at 7 p.m. at the DeKalb County Jail in Fort Payne.
The names of the people arrested have not been released.  The ACIJ says the detainees' families are terrified and don't wish to speak publicly about the arrests.  ACIJ representative Evelyn Servin said among those arrested were people with no criminal record who were present during the sweep. Servin said one woman she spoke with said her husband was detained as he was leaving for work, and her brother was also in the vehicle. Both were arrested.
"The police officers and ICE did not have a warrant for them, but still, just because they were in the car, they took him. This lady does not work, her husband is the only person who can maintain their 10-year-old and their 4-year-old," said Servin. "They're alone right now. They don't know what to do and they don't have money to hire an attorney. They don't know what the next step may be, and she's terrified of what the future may hold for her."
WHNT News 19 asked ICE for a comment about the group's strong accusations.  Spokesperson Thomas Byrd released this statement:
"ICE focuses its enforcement resources on individuals who pose a threat to national security, public safety and border security. ICE conducts targeted immigration enforcement in compliance with federal law and agency policy. ICE does not conduct sweeps or raids that target aliens indiscriminately. However, as Secretary [John] Kelly has made clear, ICE will no longer exempt classes or categories of removable aliens from potential enforcement."
ICE launched a series of targeted enforcement operations across the country in early February.