This is an archived article and the information in the article may be outdated. Please look at the time stamp on the story to see when it was last updated.
ARDMORE, Ala. (WHNT) - As racial tensions still smoldering in Ferguson, Missouri continue to reverberate through the entire country, a North Alabama woman says she saw a flaming symbol of intolerance way too close to home for her comfort.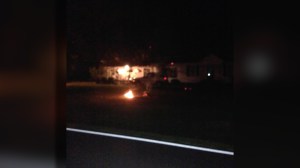 An Ardmore woman says she spotted a burning cross in plain sight on a well-traveled highway. She says only 18 miles from the birthplace of the Ku Klux Klan in Pulaski, Tenn., unfortunately the sight is not as farfetched as most would like to believe.
Caitlyn Dover, 20, says she took this cell phone photo Thursday night on Highway 251 south. She believes what she saw was a burning cross.
Dover was on her way home from a friend's house around 10 p.m. when she says she saw a frightening glow.
"I looked to my right and I noticed something on fire and I looked again and I looked a third time and I just couldn't believe it."
After receiving Dover's photo through email we, of course, approached the claim with necessary skepticism. But our interest was further piqued when we pulled up to the home were Dover took tho photo and smelled soot in the air.
No one was home to answer our questions about the five burn piles of ash in the front yard.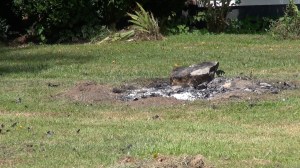 A neighbor who would not agree to speak with us on camera vouched for the homeowner saying he was a good, Godly neighbor who had simply been burning stumps in his front yard.
"It couldn't be misconstrued as anything other than a burning cross," Dover demands.
She said her photo, though blurry from her frightened haste, proves it.
The Limestone County Sheriff's office and Ardmore Police say they received no calls about the ostensible cross burning. But an Ardmore Police officer told us, "It does look like a cross on fire."
Dover says it made her feel like she had woken up from a 50 year nap.
"Hate. That's the only thing I think it entails, is hate - I don't want people to think that's what the town I live in and the own that I love is all about," says Dover.
Not only does she say she's still in shock - she calls the sight mortifying.
"Oh, I am absolutely embarrassed. I'm ashamed that people on Facebook when my friend uploaded the picture, were saying, 'Oh, that's just Ardmore - that's nothing new.' I'm just in complete awe this is going on in 2014."
According to Alabama law desecration of "venerated objects" in public is considered a misdemeanor. Such objects include the American flag, the state flag, or "any other object of veneration by the public or a substantial segment thereof" to include crosses or crucifixes.