This is an archived article and the information in the article may be outdated. Please look at the time stamp on the story to see when it was last updated.
Alabama prisons are overcrowded. Investigations by numerous groups show this, and on November 6, our news partners AL.com held a discussion to brainstorm solutions to correct the problem.
According to their reports, the state's prisons hold nearly twice the number of prisoners they were designed to house.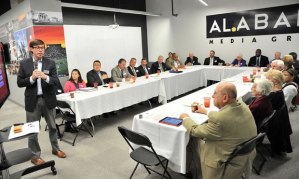 The public form at The Huntsville Times building downtown was a way to address what could be done to increase prison capacity, improve conditions or use alternatives to incarceration.
The forum was a partnership with the David Mathews Center for Civic Life.  More than two dozen people attended to discuss ideas.
"Not only is it a good chance to come together talk together find common ground with people they might not always agree with, but it is also a chance to make informed decisions," said Christopher McCauley, the Center's Civic Life Executive Director.
Read more about the November 6 forum in this report on AL.com.
This is one of four statewide forums AL.com is conducting to encourage public discussion on prison reform.