This is an archived article and the information in the article may be outdated. Please look at the time stamp on the story to see when it was last updated.
HUNTSVILLE, Ala. – J.F. Drake State Community & Technical College's historic mission is to provide the beginning steps toward a four-degree, technical education or workforce training.  It was founded in 1961 and teaches more than 2,000 students annually.
Over the past six months, the quiet campus has been rocked by the suspension and eventual forced retirement of its president. That departure left plenty of questions in her wake.  Below is a timeline of events since the summer of 2015.
July 2015: A state audit highlights a number of findings concerning the handling of grant money at Drake State. The audit includes a finding that 38 students were given grant funds to pay for a class, but they did not receive credit for the class because an instructor was not qualified to teach it.  A lawyer for the two-year college system told WHNT News 19 this week that the class involved dual enrollment for a group of Sparkman High School students. The high school teacher wasn't certified to teach at the community college level.
November 2015:  Drake's then-president Helen McAlpine is placed on paid leave.  Two-year college officials decline to comment on the decision to place the 15-year president on leave.
December 2015: John Reutter, the school's Dean of Research and Planning, and the grants administrator for its two largest federal grants is also placed on paid leave.  Officials also decline to say why Reutter was placed on leave. Both Reutter and McAlpine decline comment.
Through the next several weeks, unconfirmed reports suggest auditors are on the Drake campus, reviewing records, but officials do not comment.
February 2016: Alabama Community College System Chancellor Mark Heinrich sends McAlpine a letter dated Feb. 29 informing her that he will recommend her termination at the system's March 4 board meeting.  He advises McAlpine it's in her best interest to resign prior to the termination. Heinrich's letter focuses on mismanagement of two grants administered by the National Science Foundation. He says the school has been directed to repay more than $327,000 to the NSF and more than $500,000 in costs have been questioned.
March 2016: At the board meeting, an "action" item is on the agenda regarding the president of Drake State. But when it comes up,  Heinrich announces McAlpine will retire effective May 31, 2016. And, there is no action for the board to take.
Reutter announces his retirement.
April 2016: An attorney for the two-year college system tells WHNT News 19 the National Science Foundation has conducted a review of one of Drake's large grants and a review of a second grant is pending.
The review has focused on how spending was documented and "human resource allocation."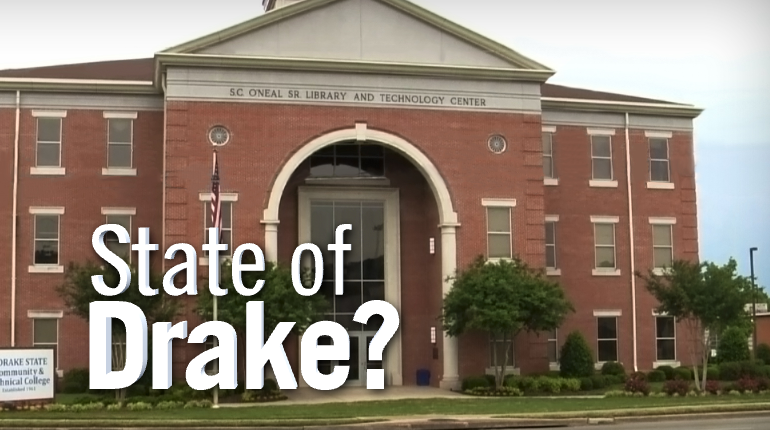 Records obtained by WHNT News 19 show that McAlpine and the two-year college system negotiated her retirement. The two sides agreed not to make any "disparaging comments" about the other side to the media.
WHNT News 19 is Taking Action to learn what's going on at Drake State. Monday, May 9 at 10 p.m. we'll tell you what we've learned.