This is an archived article and the information in the article may be outdated. Please look at the time stamp on the story to see when it was last updated.
HUNTSVILLE, Ala. (WHNT) - One of Alabama's longest-running events honoring Dr. Martin Luther King, Jr. returned to Huntsville Monday.
The 30th annual unity breakfast, sponsored by the Delta Theta Lambda chapter of Alpha Phi Alpha Fraternity, Inc, drew nearly 1,300 people to the Von Braun Center's North Hall.
David Points, Jr. is president of Delta Theta Lambda.  Describing the crowd, he said, "as you look around here today, you'll see all races, creeds, but...you'll see a common theme that will permeate this event and that's a theme of unity and love."
The keynote speaker was Dr. Cynthia Butler-McIntyre, national president of Delta Sigma Theta Sorority and a well-known educator in the public schools system.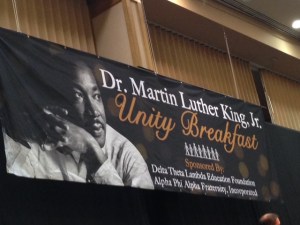 Proceeds from the breakfast benefit Alpha Phi Alpha's education foundation. The foundation grants scholarships to high school seniors. It also provides mentors and tutors to eighth-grade boys making the transition to high school.
The unity breakfast capped a weekend of events, including a parade through downtown Huntsville and a day of community service.