This is an archived article and the information in the article may be outdated. Please look at the time stamp on the story to see when it was last updated.
HUNTSVILLE, Ala. (WHNT) – It's been nearly a decade that spots at University Place Shopping Center located at University Drive and Enterprise Way have sat vacant. Of course, the property frontage is populated by Zaxby's, Panda Express and Cheddar's Restaurants, but the shopping center proper has looked dismal for years.
Why has it taken so long for someone to look at the property with new eyes? It's a prime location, after all. An estimated 90,000 people pass the University Drive site daily, which backs up to bustling Cummings Research Park.
But if you happened to glance over, you'd see many empty store fronts and facades that seem to fade into the background.
That all changed two weeks ago when Mark Gold purchased the property. He has plans to bring 13 new tenants to the shopping center which he says he wants to fill with 'mom & pop' shops before adding 2 to 3 national tenants.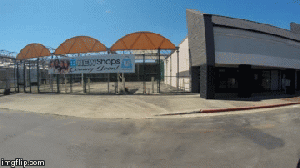 "There was an out-of-state company that owned this shopping center for years and they really didn't want to fill this space for whatever reason — that was their development reason. However the new owner, Mark Gold loves the South and when he came to Huntsville he fell in love with it. And he bought this center 70% vacant and we now have it 70% full in two weeks," says Debbie Collins, broker with Sperry Van Ness Commercial Real Estate in Huntsville.
The tenants who have already leased space on the property include 24e Fitness, The Bookshelf, Big Bowl Thai Food, WOW Children's Entertainment, Perfect Praise Early Childhood Music, Creative Bean Coffee Shop, Village Boutique, Miracle Ear and few restaurants including a pizzeria.
Collins says Gold also has plans to purchase additional space elsewhere in Huntsville in the near future. She says the first new tenants at University Place Shopping Center should open to customers in the next few weeks.