This is an archived article and the information in the article may be outdated. Please look at the time stamp on the story to see when it was last updated.
Imagine getting a call from the utility company saying you've qualified to win a brand
new car.  What about a call threatening to cut off your power if you don't divulge personal information?  It sounds pretty far-fetched, but Huntsville Utilities customers say several customers have reported getting bogus calls like these.
Someone is phishing for credit card information, according to Huntsville Utilities spokesperson Joe Gehrdes.
"This is the second time this year we've had a possible scam call, it's a situation where the customer will be contacted, and that's not something we do," said Gehrdes.
For many people, not giving out personal information over the phone is common sense.  However, you might be a little more trusting if you thought the person on the other end of the line was a legitimate business person.
Wednesday, Huntsville Utilities say two customers called them to report they had received phone calls from someone saying their utility service would be disconnected by 5 p.m. if they didn't supply the caller with their Social Security Number, date of birth and credit card number to pay the bill.
 
If that doesn't sound bogus enough, Gehrdes says a similar scam surfaced in February.  In that one, someone promised cash and prizes in exchange for personal information.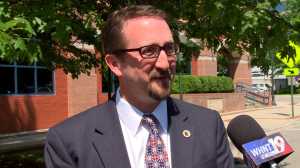 "Previously this year someone was contacted saying because of their good history with us they were winning a car and a cash prize," said Gehrdes.  "Not only is that something we don't do, that we can't do that because of our not-for-profit public status."
Luckily, no one has taken the bait, but consumers could easily be swindled by someone posing under the guise of a reputable company.  Don't fall for it.
"That should be a red flag to any customer, if somebody claiming to represent Huntsville Utilities is asking them for that information by contacting them, they can know that won't be us because we don't do that," said Gehrdes.
If you receive one of these bogus calls, try to get as much information as possible and contact the utility office.  Your tip could help police track down the person responsible.
Most businesses like banks or credit card companies will never contact you to ask for personal information over the phone.  The business usually already has this information on file. 
If you're pressured over the phone for personal information, ask for credentials and don't hang up until you ask the caller's name.