This is an archived article and the information in the article may be outdated. Please look at the time stamp on the story to see when it was last updated.
HUNTSVILLE, Ala. (WHNT) — In a special session Wednesday morning, the Huntsville Board of Education announced the results of reviews on teachers with probationary status, those instructors whose contracts were not renewed, some principal swapping and a new leadership team for Johnson High School.
The board announced leadership changes in schools all over the city.
Jeanne Greer, principal of Jones Valley Elementary School, was named principal of the Academy of Science and Foreign Language. Greer will replace Jennifer Garrett, who retires in October.
Greer will be replaced at Jones Valley by Becky Balentine, previously of Westlawn Middle School.
Brad Scott, principal of Goldsmith-Schiffman Elementary will move to Chaffee Elementary. He will be replaced at Goldsmith-Schiffman by Amy Mason, who is an assistant principal at Chapman School.
Sanchella Graham of Chapman Elementary has not yet been reassigned to another school.
The following principals' contracts were renewed for three years to continue leading their current schools:
Lynette Alexander, Westlawn Middle School
Dawn Ashley, Dawson Elementary School
Fredrick Barnes, Lakewood Elementary School
Heather Bardwell, Weatherly Heights Elementary School
Towana Davis, Montview Elementary School
Jennifer Douthit, Martin Luther King Jr. Elementary School
Debi Edwards, Hampton Cove Middle School
Dianne Hasty, Challenger Middle School
Ann Jobe, Academy for Academics and Arts
Kevin Wieseman, Lee High School
A total of 47 teachers were not renewed following the three-year probationary period based on evaluations that include in-class observation, student surveys and instructor attendance records.  However, Superintendent Casey Wardynski says the system's amount of teacher renewals is increasing.  He said it's a testament to a shift in the hiring process.
"Sixty-three percent of our probationary teachers last year were renewed, this year 85 percent were renewed," explains Dr. Wardynski. "That increase is due to the fact that we're being much more careful about who we hire in the first place so we move that hiring from the school level up to the school system.  We screen very carefully and that means we're less likely to need to let somebody go later on."
Dr. Wardynski says 47 teacher non-renewals out of 388 reviews is an improvement over the previous year.
"Last year that number was around 85, so you can see the improvements we are making there and we continue to see when we evaluate teachers their performance is going up, up, up which is another great part. So the teachers we are keeping are continuing to improve and we're doing a better job with the hiring, too."
Another notable item at Wednesday's school board meeting: big changes in the leadership team at Johnson High School.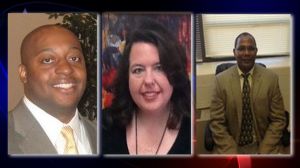 Eric T. Jones, Teresa McDaniel and Roderick Tomlin are coming to Huntsville from the Jackson Central-Merry Academy of Medical Technology in Jackson, Tenn. Jones is the principal of the health sciences magnet school, and McDaniel and Tomlin are his assistant principals.
Wardyski says the trio will retain their positions when they join Johnson, which will lose its principal, Michael Campbell, to Sparkman High School in the fall.  Chris Sim, the current assistant principal of Johnson, is being moved to Mountain Gap School.
Wardynski explains the school system has sought out Jones and his leadership team for several years due to the results they have gotten at Jackson Central-Merry.
"A school of about 700 students, about a 90 percent free and reduced student population and when he and his team went in there they had about a 50 percent graduation rate, now they're in the 90s and they are a national model school under the U.S. Department of Education's Turn-Around Program."
More than a dozen of 89 teachers approved for transfer or reassignment Wednesday are also being moved from Johnson, Wardynski said.
"We reassigned about 15 teachers from Johnson to other assignments and we'll be bringing in a large number of Teach For America teachers and new teachers into Johnson just as we did last year at Westlawn Middle," the superintendent explains.
Dr. Wardynski says the board will also be doing "quite a few" reassignments at Butler High School, Davis Hills Middle, Ed White Middle, Chapman P-8 and Lee High School.
"We want to continue to strengthen those schools in which we are seeing progress, but we want to accelerate that progress," Dr. Wardynski said.