This is an archived article and the information in the article may be outdated. Please look at the time stamp on the story to see when it was last updated.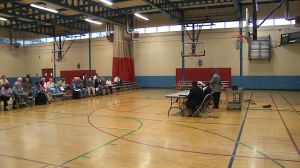 HUNTSVILLE, Ala. (WHNT) – A public meeting held Tuesday night at the Richard Showers Center was intended to allow Huntsville Housing Authority principles to facilitate a conversation with residents concerned about proposed public housing units on Winchester Road. Many in the audience seemed to consider the meeting's format a citizen's filibuster of sorts.
The Huntsville Housing Authority is considering hiring Work Force Housing to build a 40-unit apartment complex for public housing tenants across from Union Chapel Missionary Baptist Church.
About 50 northwest Huntsville residents gathered in a Showers Center gym to express their disdain about the proposed housing -- but they had to wait.
Work Force Housing Developer David Johnston strolled in about twenty minutes late juggling armfuls of artist's renderings and diagrams.
Johnston said the Winchester Road project is modeled on a privately owned apartment complex on University Drive.
Johnston said Work Force Housing scouted about 20 areas across Huntsville but that Winchester Road fit the bill, he said, on utilities, traffic and no nearby public housing.
Officials from the housing authority and Work Force Housing then prepared to work through a series of 88 questions submitted in writing at an August 12 town hall meeting held at Union Chapel.
But before that beleaguered process began Housing Authority Executive Director Michael Lundy spent about 15 minutes on a slide presentation reiterating redevelopment philosophy, displaying before-and-after property photos and recounting prior Authority successes.
Lundy said the apartments would be an "incentive site" reserved for public housing residents who are on a trajectory to move "up-and-out" of public housing within five years.
Lundy said the incentive program has had a 20 to 30 percent success rate city-wide and a 55 percent success rate at Stone Manor Apartments in south Huntsville.
The first submitted question was in regards to if the land for the proposed Winchester Road site had already been purchased.
David Johnston said Work Force Housing has the 6-acre site under contract but has not closed on the deal yet.
The next question read was 'Is the proposed site zoned for apartments?'
"It's zoned C-4 which allows for apartments so it's zoned commercial but it allows for multi-family dwelling under the city zoning rules," answered Johnston.
After several questions -- amid complaints of the noisy air conditioning system and a testy microphone preventing residents from hearing all responses -- some audience members tried to interrupt with specific concerns.
"He didn't fully answer the question," said one audience member of Johnston, "can we not go ahead and ask questions?"
Facilitator Gary Whitley interjected, "Right, so that will happen at the end once we go through all of these questions so that we're not triplicative of the questions that have already been submitted."
When asked if residents could make suggestions about where the building is placed David Johnston snarked, "We proposed the layout. It has been engineered and costed in our proposal; I suppose if someone wanted to write a check and pay for that they probably could."
After about 45 minutes to an hour of back-and-forth some audience members got up to leave, unwilling to hold their comments until all 88 prescribed questions were addressed.
"I came for more information and feel like I left with a PR presentation from the Housing Authority," said one attendee who left in the middle of the meeting. "It's like a citizen's filibuster in there."
In the most blunt and direct audience-submitted questions officials were asked what could be done to stop the proposal and what, if any weight citizen concerns and comments had on the final decision.
"Voicing your concerns, your credible concerns about the project to representatives of the Huntsville Housing Authority and to the board of commissioners - which you've done - certainly is part of the decision-making process," Lundy ensured.
He pointed out the agency rejected a third potential public housing site on Newson Road in southwest Huntsville after "digging a little deeper" into the demographics of the surrounding neighborhood.
On several instances Lundy attempted to quell concerns about public housing in general with statistic and facts on current properties.
Lundy said housing authority statistics show that crime at its incentive housing sites -- Stone Manor, Wind Trace, Mahogany Row and Cotton Row -- is generally lower than in the surrounding neighborhood.
He said he attributes that to the agency paying the Huntsville Police Department to provide extra patrols at all public housing sites.
"At a moment's notice, we can call someone from HPD to come respond to a problem," he said.
In addition to extra police patrols, Lundy said the Winchester Road apartments would have an on-site manager who could immediately deal with any issues. Also, the housing authority has a "one strike, you're out" policy to quickly evict any resident charged with a serious crime, he said.
Lundy said the future residents of the Winchester Road apartments would likely be a mix of people wanting to transfer from existing public housing developments and families on a waiting list for public housing.
Every resident, say Lundy, would be required to participate in the housing authority's "up and out" Family Self-Sufficiency Program.
Reporter Steve Doyle with our news partners Huntsville Times/al.com reported at 8:10 p.m. -- well over two hours into the meeting -- Winchester Road resident Leonard Chalk walked to the center of the gym and asked how many people in the audience want to see the apartments built.
Not a single hand went up.
"We don't want it," said Chalk. "It's unfair to shove this down our throats."
A meeting scheduled for next Wednesday, September 25th at noon will determine if the apartments will be erected on Winchester Road.
Click here to read the rest of Doyle's live blog from Tuesday night's meeting.