This is an archived article and the information in the article may be outdated. Please look at the time stamp on the story to see when it was last updated.
It's a fad sweeping the Internet. The Cinnamon Challenge is where people try to swallow spoonfuls of cinnamon, with no water, without coughing or vomiting. Some students in Huntsville have stepped up to the challenge, but not without coughing, gagging and wishing they hadn't tried it.
Several videos can be found online showing kids doing the Cinnamon Challenge. Though it may seem like a silly game, doctors say it can be dangerous too.
"I was on YouTube and saw the video all over Facebook and everything. I thought it looked fun. I wanted to try it," said Brandon Chukwu.
Chukwu is in eighth grade at Williams Middle School in Huntsville.  He and friend Deonte Phillips tried the challenge at school.
"It looked cool to me when I saw it," said Phillips. "People were telling me I couldn't do it, so I tried it."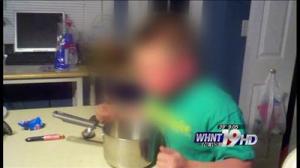 Four of their classmates also took the challenge.
They ate a spoonful or more cinnamon at once without drinking anything.
Phillips tried it not once, not twice, but three times.
"The third one was the time that I actually stopped doing it because I almost died that day," said Phillips.
Videos posted online show the kids coughing and gasping for air at first bite.
"I choked on the cinnamon, could not breathe and it started to burn my throat. If it wasn't for me throwing up, I probably would have choked on it because the water did not help at all. It just sat there," added Phillips.
Medical professionals say the cinnamon can end up in the lungs, cause respiratory distress or put blisters in the throat.
"I don't think they understand the danger of trying to ingest something so dry and powdery without water," said Williams Middle School Principal Dr. Avis Williams.
Dr. Williams alerted school faculty about the fad and called the parents of each student caught doing it.
"The ones that I talked to were surprised. Many of them never heard of it. I did talk with one parent who had spoken to their child about it," added Dr. Williams.
Dr. Williams told WHNT NEWS 19 the six students were punished with in-school suspension. Her main concerns were educating the students and notifying their parents.