This is an archived article and the information in the article may be outdated. Please look at the time stamp on the story to see when it was last updated.
We encourage you to download the WHNT News 19 app.  It's free for iOS and Android devices.
WHNT's News app includes live streaming, breaking news notifications and all the local news you want from WHNT in a fast, high-performance app.  You can also get weather, traffic and sports alerts.
Be the first to know with alerts and find out what's happening in your area with News Near Me.  Live stream newscasts right from your phone or tablet, and save stories to read later and share easily to Facebook, Twitter and other social networks. You can also send us photos through the app.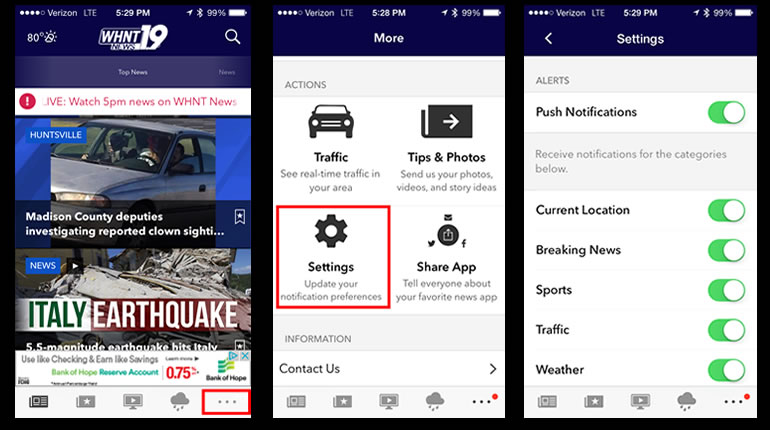 How to enable your alerts
If you've downloaded the app recently or updated to the newest version, here is what you'll see.
For alerts, tap the three dots on the lower right corner of the screen.
Then, click 'Settings' to update your notification preferences.
On the next screen, choose which types of alerts you'd like to receive:
'Current location' will give you an alert when we publish a story where your phone is located, if your GPS settings are enabled.
'Breaking News' will send you Breaking News Alerts
'Sports' will send you Sports alerts
'Traffic' will send you Traffic alerts
'Weather' will send you Weather alerts.NOTE: These are not alerts from the National Weather Service. If you'd like to receive those, please download Live Alert 19.