This is an archived article and the information in the article may be outdated. Please look at the time stamp on the story to see when it was last updated.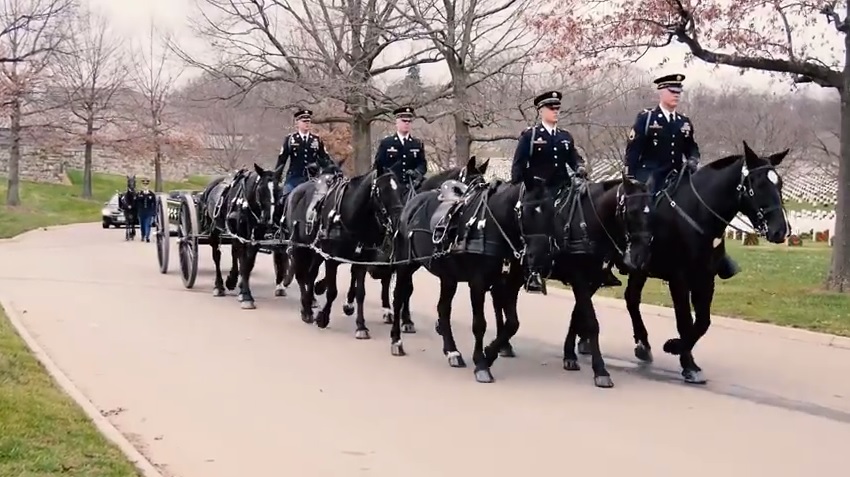 ARLINGTON, Va. –  The Caisson Horses of The Old Guard participate in all Army, Air Force, and Marine Corps Full Honors Funerals performed in Arlington National Cemetery. Now, two of them are up for adoption.
But be warned, these revered animals won't go to just anyone.
The Old Guard website describes the horses involved in the adoption program as:
Each Caisson Horse offered for adoption has served on average for over a decade. During the course of their service they participate in thousands of funerals for our nations heroes. Because of the long and distinguished service of each and every horse in our stables, The Old Guard has introduced the Caisson Horse Adoption Program to ensure each horse is rewarded with a great home following its well earned retirement.
Kennedy and Quincy have both finished their tours of duty and are up for adoption. They will be free to a good home.
According to an article posted to Stars and Stripes, the application is quite extensive. It asks questions including, "How often do you think a horse should be wormed?" and "If you go on vacation, what would you do with this animal? If you had to move, what would you do with this animal?"
Kennedy is described as a 15-year old, black Standardbred gelding at 14.3 hands.  He was purchased after he retired from racing and groomed as a potential Caparison horse to be used for the Caisson Platoon mission.
Kennedy is a handsome animal and was quite impressive as the "rider less" horse.  However, he was asked to leave the Cemetery permanently by the Regimental Commander for kicking and striking out with back legs at cars and Soldiers.
Since Kennedy is not permitted to fulfill a role with the Caisson Platoon, he is declared not serviceable at this time. Kennedy must be adopted out to an experienced trainer and/or rider because of behavior not suitable for the mission of the U.S. Army Caisson Platoon.
Kennedy has no current medical conditions and is current for all shots and Coggins test.
Quincy is an 11-year old, black Quarter Horse gelding. His service with the Caisson Platoon has been short due to being diagnosed with navicular disease.
Quincy's feet have very thin soles which make him sensitive to hard ground when he is not shod. The therapeutic shoe that Quincy must wear limits his ability to be used as a Caisson Horse. He is on long term isoxuprine which provides increased blood flow to the navicular bone, although he still is lame without shoes and even painful to be shod.
Quincy is one of the most popular horses in the Caisson Stables. He is known to be very loving and enthusiastic towards visitors and especially children. He could be maintained with proper shoeing and medication. It is recommended that the adopter limit contact with hard ground and endurance riding.
Quincy is current for all shots and Coggins test.
Those wishing to adopt the horses can visit the barn every Tuesday 2:00-4:00 p.m.
The address is 9300 Old Colchester Road Lorton, VA 22079. Guests will see the black Caisson sign outside the entrance gate of the training facility.
The Stars and Stripes says the horses are used to hard work. Their days usually start at the barn at 4:30 a.m., when soldiers assigned to the caisson come in to prepare for the day's funerals.
By 8 a.m., the horses are ready to go to the cemetery, where they stay until about 4 p.m. "These horses have been doing this so long, they know what the job is," Loudner said.
Quincy typically walked at the front of funeral processions or in the middle position, Smith said. Kennedy had the most distinctive job of all, that of the riderless horse.
The tradition of a horse walking riderless to a grave site, its saddle empty to memorialize the service member who will never ride again, dates back to the funeral of Genghis Khan, an exhibit in the barn at Fort Myer says.