This is an archived article and the information in the article may be outdated. Please look at the time stamp on the story to see when it was last updated.
HUNTSVILLE, Ala. (WHNT) - The Holiday Inn, near the Von Braun Center, will be torn down in the near future making room for a brand new development.
Big Spring Partners says the site will be available for redevelopment and the space could include a new hotel, restaurants, and residential living space.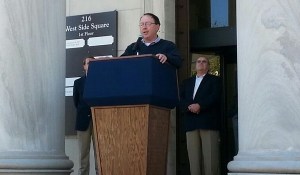 City leaders and development groups made the announcement Friday afternoon. Current employees were informed of the closure Friday morning.
The Holiday Inn will be closed on December 15 and proposals to redevelop the property, currently leased by Big Spring Partners and owned by the City of Huntsville, will be accepted early next year.
"This facility has been an important asset to our downtown for many years," said John Stallworth, Big Spring Partners, Inc.'s board chairman. "We are pleased that this site will continue to serve downtown as a key redevelopment site for years to come."
The City of Huntsville plans to begin accepting requests for proposals for the property in spring of 2014, but ideas for redevelopment are already being shared.
Mayor Tommy Battle said the possibilities for redevelopment are unlimited.
"This is a phenomenal location in our downtown area," said Mayor Battle.  "As we reposition this property, we want to see proposals that will bring excitement to our community and bring even more energy to downtown."
Chief Executive Officer for Downtown Huntsville, Inc. said the location will allow downtown to grow.
"Downtown Huntsville has realized important development growth over the last several years.  This site is ideally positioned to serve as a signature location in that continued revitalization," said Emerson.
The downtown Holiday Inn, which originally opened as a Hilton,  is a 270 room hotel.  President/CEO for the Huntsville/Madison County Convention and Visitors Bureau Judy Ryals said that a Homewood Suites located in the new Twickenham Square development will bring more hotel rooms to the area in the next few months.
City leaders say they are working with Chamber of Commerce for Huntsville/Madison County and other hotels in the area to host job fairs for the employees.
Downtown Huntsville, Inc. is encouraging residents to share their ideas and thoughts on what they would like to see at the property.
"We'd like to hear what our residents want to see downtown," said Emerson.  "Whether it's a mixed use urban development, a downtown ballpark, a new hotel, more park space, or anything in between, we really want to know what people feel will be the best use for the property."
You can share your ideas and get updates on all of the latest activity downtown by visiting www.DowntownHuntsville.org