This is an archived article and the information in the article may be outdated. Please look at the time stamp on the story to see when it was last updated.
OPELIKA, Ala.-Police are hoping newly discovered photographs may lead to the identity of a young girl whose remains were found in January of 2012.
The skeletal remains of the girl, called Jane Doe by investigators, were found on January 28, 2012 at a trailer park on Hurst Street in Opelika, Alabama.  It's estimated the child had been deceased between eight months and two years,  putting the date of death between 2010 – 2012. She is estimated to be 4-7 years old and had medium length black hair styled in small tight curls. A coroner's assessment of her bones suggests she had likely been abused and malnourished in life. A long-sleeve pink shirt with heart buttons and small ruffles near the neckline was recovered near the remains but it is unknown if it belonged to the child.
Opelika Police, the Lee County Coroner's Office and the National Center for Missing and Exploited Children recently released composite images of Jane Doe.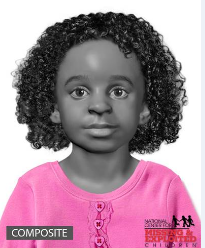 Investigators received several leads since releasing the composite images.  One lead came from a Vacation Bible School at Greater Peace Church in Opelika.  The photos are from 2011.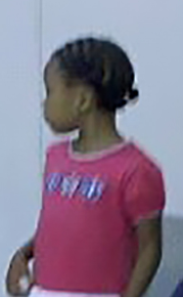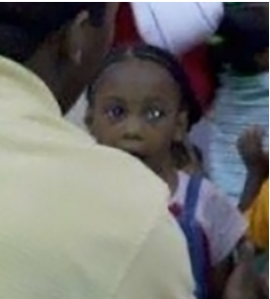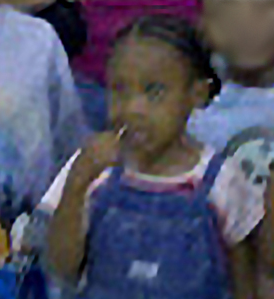 Police believe the photos show Jane Doe, though they are not positive at this time.  All attempts to identify her through school and church records have failed.
Police are asking for the public's help in identifying who this young girl is. She would have been about 4-5 years old in the pictures from 2011. According to police, the young girl also had a visible deformity of some type with her left eye. She may have been blind in that eye. This may have been natural or caused by an accident or abuse. She was quiet and stayed to herself, not interacting with other children very much.  She had trouble communicating on the same level as the other children.
Anyone who recognizes this young girl is asked to contact the Opelika Police Department Investigative Services Division at (334)705-5220, the Secret Witness Hotline at (334)745-8665, or the National Center for Missing and Exploited Children's Call Center at 1-800-THE-LOST(843-5678).