This is an archived article and the information in the article may be outdated. Please look at the time stamp on the story to see when it was last updated.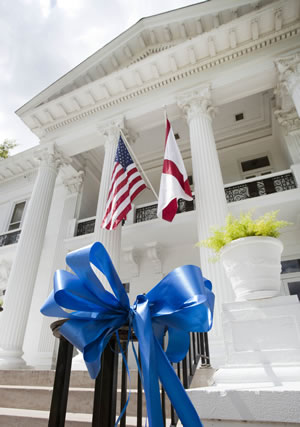 News release issued by Governor Robert Bentley's Press Office
MONTGOMERY– First Lady Dianne Bentley joined 16 other First Ladies from across the nation on Wednesday, March 21 to honor Light the Way, a campaign to support advances in research for the treatment of Down syndrome.
The initiative was created by New Jersey First Lady Mary Pat Christie.  To recognize this significant day, Mrs. Bentley has placed blue ribbons on the front doors of the Governor's Mansion as well as the gates to the grounds.
"I am thankful for the opportunity to join with other states across our nation to recognize and bring attention to Down syndrome cognitive research," Mrs. Bentley said.  "The blue ribbons we are displaying are in honor and support of those whose lives are affected by this condition every day."
An estimated three million people worldwide have Down syndrome, including approximately 400,000 in the United States.  One in every 691 babies in the United States is born with Down syndrome.  Life expectancy for people with Down syndrome has more than doubled in the past 25 years and now averages 55 to 60 years of age.
Down syndrome is the most common chromosomal anomaly in humans, the result of having 47 chromosomes instead of 46.  The presence of extra genetic material is typically associated with delays in physical and intellectual development that usually range from mild to moderate in nature.  People with Down syndrome attend school, work, participate in decisions that affect them, and contribute to society in many wonderful ways.
The Governor's Mansion doors will have blue ribbons displayed from Wednesday morning through Wednesday evening.