This is an archived article and the information in the article may be outdated. Please look at the time stamp on the story to see when it was last updated.
HUNTSVILLE, Ala. (WHNT) – For months, Alabama has stood firm behind its decision to opt out of the Medicaid expansion slated to go into effect next year as part of the Affordable Care Act.
"We are improving our present Medicaid program," said Governor Robert Bentley.
Governor Bentley remains immovable on his position against proposed Medicaid expansion in the state, as he made clear during a visit to nonprofit Phoenix Services in Huntsville on Tuesday.
"We've totally redone that program and we're going to make it a workable program," Bentley contends.
"Our goal is to create more jobs in the state of Alabama like here at Phoenix or other places and have fewer people on Medicaid – that's our ultimate goal," the governor maintains.
Bentley has repeatedly said the state can't afford to take on the full amount for the estimated 300,000 new participants once the federal matching funds start dropping in 2017.
But studies have emerged in recent months countering that position, saying the overall economic benefits to the state would outweigh the additional medical costs – by millions of dollars and thousands of jobs – if Alabama changed its stance and expanded Medicaid.
On February 26, 2013, the Alabama Senate Democratic Caucus unveiled Senate Bill 259 during a news conference.  SB-259 is a bill sponsored by state Senator Roger Bedford (D-Russellville) and was cosponsored by all Democratic senators. It will require Medicaid expansion in the state of Alabama.
The members of the Alabama Senate Democratic Caucus believe this bill would expand the Medicaid program to provide assistance to all persons for whom federal matching funds are available to the state under the Patient Protection and Affordable Care Act.
During the news conference there were many references to expanding Medicaid by the members of the Alabama Senate Democratic Caucus as "putting people before politics," "good for the economy and business," and the "difference between life and death."
The expansion of Medicaid in Alabama can happen in one of two ways. Either the governor or the legislature can enact it.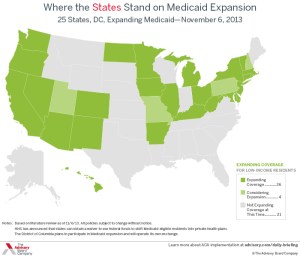 "We're calling on the Governor to enact Medicaid expansion so that 300,000 Alabamians will have a better quality of life. But, we are also prepared to pass legislation if the Governor won't act," stated Senator Bedford.
"The first three years are 100 percent paid for by the federal government and then the federal government will pay 90 cents on the dollar. It's a sound investment. We hope Alabama will go for it."
A study commissioned by the Alabama Hospital Association shows the state could create anywhere from 24,600 to nearly 52,000 jobs between 2014 and 2020 if it takes part in the expansion.
David Bronner, CEO of the Retirement Systems of Alabama, has described Bentley's opposition to the Medicaid expansion as "incredibly short-sighted and incredibly naive." He mentioned the study AHA commissioned:
"There's not a company in the history of Alabama that can create that many jobs," he said.  "And we pay hundreds of millions of dollars (in incentives) for a thousand jobs. (In the expansion), we don't pay anything, and we get 30,000-plus jobs … You can't be anymore naive than to be against that," Bronner added.
RSA's Bronner said he believes much of the opposition to the expansion stems from a dislike of the Affordable Care Act, in general.  But, he said politics shouldn't get in the way of doing the right thing for the state's low-income residents.
"To say you don't like the program, that's just crock," Bronner said.  "Who cares if you like the program or not?  What you're doing is helping 300,000 people and helping the rest of us who are paying a bill for those 300,000 people."
Of Alabama's population of 4.8 million, about 531,000 would be newly eligible for Medicaid under the proposed expansion.  Of those, 332,000 are currently uninsured according to data compiled by the Birmingham Business Journal from a UAB Study, The Kauffman Foundation and state records.
State officials have said the expansion would push Alabama's Medicaid from $6.3 billion to what they characterize as an unaffordable $13.2 billion by 2020.
The total cost for the expansion for Alabama is estimated at $771 million between 2014 and 2020 according to the preferred scenario in UAB's study.
But under that same scenario, tax revenue would increase by $1.7 billion leading to a potential positive net impact of $935 million on the state budget.
So, is opting out a billion-dollar gamble as characterized by expansion supporters?
"We are not going to expand a system that was totally broken," Gov. Bentley said Tuesday.  "Our job right now is to make sure the system we have works well," he said, "and we're doing that."
With the potential addition of 30,000 jobs in the state according to the Alabama Hospital Association, WHNT News 19 asked Governor Bentley how the state can afford to not to expand Medicaid:
"Well, now let me say this," the governor started, "Do we need a more accessible, affordable healthcare in this state and in this country?  Absolutely.  The problem we have is the Affordable Care Act is not working and it's not a workable situation," Bentley contends.
"Expanding Medicaid is expanding an entitlement program and I can't think of anything worse than expanding an entitlement program – I am totally against that."
Bentley says Alabama will need to make the current situation work.  He says the Patient Protection and Affordable Care Acts don't protect patients.  They are not affordable. "And, it's not healthcare."
But he says his position doesn't mean there will be a neglect for Alabama citizens.  He says state officials will need to come up with ways to expand healthcare in Alabama through primary care physicians, by using physicians extenders like nurse practitioners and physicians assistants.
"And really try to improve the quality of life of the people of this state," Bentley finished. "The most important thing we can do is help them get a job."
Huntsville Hospital CEO David Spillers issued the following response to WHNT News 19:
"We believe without the expansion of Medicaid, hundreds of thousands of people in Alabama will continue to remain uninsured.  This will put a strain on the health care system statewide.  We believe it will also put us at a competitive disadvantage to those states that choose to expand.  We also believe the economic impact of approximately $1.8 billion a year coming into our state would create a significant number of jobs and also improve the health care of thousands of people in Alabama."