This is an archived article and the information in the article may be outdated. Please look at the time stamp on the story to see when it was last updated.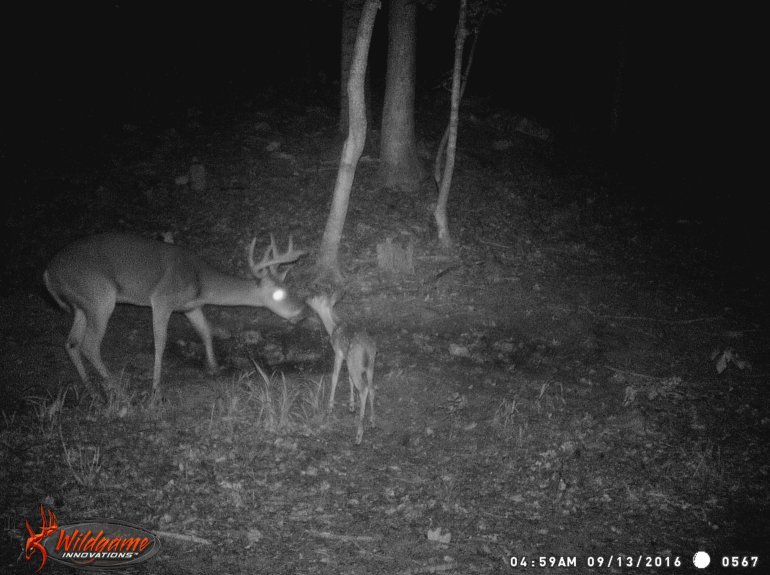 MADISON COUNTY, Ala. – Any hunter in Alabama knows that trail cameras often capture interesting images.  One Madison County resident shared this photo of a buck and fawn getting to know each other.
Tyler Ayers owns several acres of land in northeast Madison County.  He recently checked the images on his trail camera and found this precious image captured just before 5:00 a.m. on September 13, 2016.
We asked Matt Brock, a biologist for the Alabama Division of Wildlife and Freshwater Fisheries to give us his observations about the photo.   "It appears the young fawn is meeting a buck, perhaps for the first time.  Deer are highly social animals and interactions like these are very common. They smell and lick on each other to identify sex, maturity, and even individual deer they have encountered before."
Brock added, "Once a fawn reaches 3-4 weeks of age they begin to travel more with their mother. As they are exposed to their new surroundings interactions with other deer, of both sexes, are fairly common, especially at community feeding areas. More than likely, with a fawn of that size, the mother is in close proximity, although not in the frame of the photo."
For months now, WHNT News 19 Chief Meteorologist Jason Simpson has reported on the drought conditions that are gripping Alabama.  Just today, he posted that some areas are experiencing the worst drought of this decade.
We wondered if the drought would have an impact on Alabama's deer herd.  Brock said, "It has been extremely dry all summer with very few exceptions for north Alabama.  So, deer may be in slightly less than ideal physical condition in some areas."  He added, "I have noticed this on recent trail cam photos. It should not be any reason to worry long term. Individual deer with weakened immune systems or other health problems could potentially face further sickness or death.  But even in drought years, the overall deer herd will be fine."
Brock added, "The drought could impact mast production, which is crucial for deer in the fall and winter months."  Mast refers to the fruit of forest trees like acorn, hickory and other nuts.
Brock explained that acorns assist deer with fat storage in preparation for the breeding season. Soy beans, corn, and other crops also provide high-carb food sources at important times.  "Crop production was definitely impacted in some areas, and if also in areas with little to no mast production, deer may enter winter at a lower physical state than an average year.  Most often, drought conditions show up in deer by having decreased antler development, lactation, and body weight."
Alabama's archery hunting season opens on October 15th.  Brock emphasized that every hunter this season must report their buck and doe harvest to Game Check and receive a confirmation number within 48 hours of harvest.
There are three ways to report your harvest:
App – The easiest method is the Outdoor Alabama app that can be downloaded on any mobile device.
Web – The second method for reporting is the Game Check page.
Phone – The last method is by calling toll free 1-800-888-7690 and following the voice prompts.
There are game check seminars being hosted throughout the state.  Here is a list of seminars that are still scheduled.
We'd love to see more interesting trail camera photos.  Share them with us easily through the WHNT News 19 app.