This is an archived article and the information in the article may be outdated. Please look at the time stamp on the story to see when it was last updated.
(CNN) — The remains of a young boy were found on a compound in rural New Mexico where 11 emaciated children were discovered last week, authorities said Tuesday.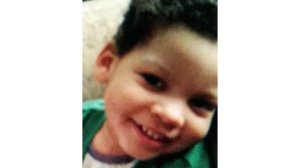 But it is unclear whether the remains found Monday are those of a missing Georgia boy, Abdul-Ghani Wahhaj, who was nowhere to be found after authorities stormed the complex on Friday. The boy's father is suspected of abducting him eight months ago from Clayton County, Georgia, where he and the boy's mother lived.
Taos County Sheriff Jerry Hogrefe said the positive identification of the remains is pending an autopsy.
The boy's father, Siraj Wahhaj, was arrested Friday along with his sisters Hujrah Wahhaj and Subhannah Wahhaj after authorities raided the compound. Two other adults — Lucas Morten and Jany Leveille — also are accused of keeping the children in an underground trailer with virtually no food or water.
The sheriff said interviews after the raid led authorities to return to the property on Monday with a good idea of where to search for Abdul-Ghani, whose fourth birthday was Monday.
The boy's mother, Hakima Ramzi, could not be reached after authorities announced the discovery of the remains.
'I haven't seen my son in nine months'
Hours earlier, Ramzi told CNN she knew her husband wanted to rid their then 3-year-old son of his medical problems. But she had no idea he'd disappear with their son for nine months, only to be found across the country with 11 other children living in squalor.
Wahhaj and the four other adults found at the compound have been charged with abuse of the 11 children found in a filthy, makeshift compound.
"I haven't seen my son in nine months," Ramzi said on Tuesday.
"My husband said he was taking Abdul-Ghani to the park, and didn't come back. That was in November 2017. When I would ask him where he was, he said he was on his way, he was coming soon, he was just keeping him for the night. But I haven't seen him since then."
She said Abdul-Ghani has hypoxic ischemic encephalopathy. "He cannot walk and suffers seizures and requires constant medical attention," Ramzi said.
An arrest warrant affidavit for Wahhaj said the mother claimed Wahhaj "wanted to perform an exorcism" on the child because he believed Abdul-Ghani was possessed by the devil.
But Ramzi clarified to CNN that her husband said he was planning to perform a ruqya — an Islamic practice involving prayer that is believed to help rid a body of illness.
"It's not an exorcism. That was a translation issue in the court," Ramzi said. Wahhaj "just wanted to pray for Abdul-Ghani to get better."
Suspect's father is a controversial religious leader
Wahhaj is the son of a prominent and controversial New York imam of the same name: Siraj Wahhaj.
The imam was the first Muslim to offer an opening prayer before the US House of Representatives, the Muslim Alliance in North America said. He was also a character witness for convicted 1993 World Trade Center bombing mastermind Omar Abdel-Rahman.
In a January Facebook post, Imam Siraj Wahhaj called for the safe return of his three children and 12 grandchildren.
On Tuesday, Imam Siraj Wahhaj said his son and two of the women arrested — Hujrah and Subhannah Wahhaj — are his children.
"I want to first express my gratitude for law enforcement for helping to locate my family," the elder Wahhaj said. "We have been working together since my grandson, Abdul-Ghani was taken. … My immediate concern is the safe return of Abdul-Ghani to his mother."
The father was spotted on his way to New Mexico
In December, days after Ramzi reported him missing, the younger Wahhaj was involved in an accident in Alabama, according to a police report. The SUV contained seven children — but none of the children was listed with Abdul's date of birth.
The SUV was registered to Leveille, who was also in the vehicle. She would later become one of the five adults arrested at the compound in New Mexico.
But at the time, Alabama police didn't hold the group after the traffic accident. The group told police they were headed to New Mexico to go camping, and continued on their way.
Even though young Abdul was reported missing, there was no child abduction warrant against Wahhaj because he was married to his son's mother — meaning they both had equal custody of the boy, Clayton County police said.
But a juvenile court judge eventually issued an arrest warrant to question Wahhaj after he failed to let the mother know where Abdul was.
Deplorable living conditions
The three Wahhaj siblings, Leveille and Morten eventually gathered in the remote New Mexico community of Amalia. There, they kept 11 children in squalid conditions.
"The only food we saw were a few potatoes and a box of rice in the filthy trailer," Hogrefe has said.
His officers helped execute a search warrant on the compound after receiving a message last week apparently forwarded from someone at the compound: "We are starving and need food and water."
Hogrefe said the message was the "breaking point" in the search for Abdul-Ghani. He said he felt investigators had enough probable cause to put in an affidavit for a search warrant.
The children looked like "Third-World country refugees" with no fresh water, no shoes, "and basically dirty rags" for clothing, according to the sheriff.
"We all gave the kids our water and what snacks we had — it was the saddest living conditions and poverty I have seen," Hogrefe said.
The three women at the compound were arrested without incident. But the most dangerous encounter came when authorities tried to arrest Wahhaj and Morten.
The sheriff's office said both men initially refused to follow verbal orders, and Wahhaj was "heavily armed with an AR15 rifle, five loaded 30-round magazines, and four loaded pistols, including one in his pocket when he was taken down."
In addition to the 11 counts of child abuse faced by all the adults, Morten was charged with harboring a fugitive.
The children were taken into protective custody and later turned over to the New Mexico Children Youth and Families Department.
"Today we will be filing the petition with the court to maintain custody of those children," said Monique Jacobson, cabinet secretary for the department.