This is an archived article and the information in the article may be outdated. Please look at the time stamp on the story to see when it was last updated.
HUNTSVILLE, Ala. – A former Grissom High School student filed a federal discrimination lawsuit Wednesday against school staff members and the city school board.
According to the complaint, Zelda  Menefee began making a social transition from male to female in summer 2014, meaning she changed her first name, changed identity documents to indicate a female gender, began wearing female clothing and using female restrooms. She enrolled at Grissom as a freshman in January 2015, the complaint states.
Menefee, now 19, claims she was harassed by students and staff, was physically assaulted by students and had a blind eye turned by school administrators when the treatment was brought to their attention.
"Every child deserves the right to feel safe at school," attorney Abbey Clarkson said in a statement. "Zelda Menefee was deprived of that right. She woke up every single school day for over a year knowing she would likely be bullied, harassed, ridiculed, and discriminated against at school that day."
The lawsuit names the Huntsville City Schools Board of Education, former superintendent Casey Wardynski, Grissom principal Rebecca Balentine, freshman principal James Coln, physical education teachers Connie Stephens and Jake Moran, history teacher Diane Staley, health teacher Alicia DesRosier, assistant principal Maurice Shingleton, guidance counselor Amy Langford and Title IX coordinator Shirley Wellington.
Click here to read the full lawsuit.
Menefee claims she was harassed, bullied and threatened by other students without any investigation by Grissom staff. According to the complaint, teachers also taunted her by telling her she was not a girl and calling her by her birth name instead of her new chosen name, Zelda. And in one instance, she claims freshman principal Coln made her change out of a knee-length skirt she wore to school into a pair of athletic pants and a T-shirt.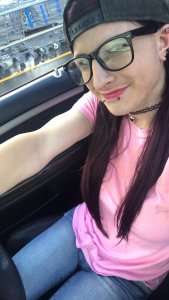 Menefee was placed in the boys' physical education class, where students commented about her clothes and harassed her, the lawsuit states. It goes on to say she reported at least two instances to the physical education teacher, who did nothing about it.
Eventually, she was allowed to enroll in girls' physical education, but the teacher wouldn't let her dress in the girls' locker room or have a locker with the other girls in the class, the complaint states.
Menefee also said she was not allowed to use female restrooms at the school and was later given permission to use the nurse's restroom. The complaint states that on some occasions she was forced to change into male clothing, even though her female clothing complied with school dress code.
According to the lawsuit, the bullying heightened to the point where Menefee was attacked in the halls at school and had food openly thrown at her during lunch. She also was pictured in the yearbook under the name James Menefee, despite asking that she not be pictured in the yearbook at all.
Multiple complaints by Menefee were not investigated and there were no consequences for her treatment, the complaint states.
Menefee eventually quit Grissom in May 2016, stating on her exit interview form that the reason was "dislike of school experience."
"We commend Zelda for her courage in standing up to the bullies, and are committed to helping her hold them accountable," Clarkson said. "Unfortunately, Zelda already had to quit school because it wasn't a safe place for her, but we hope this lawsuit will effectuate real change so that future students like Zelda can feel safe at school."
The lawsuit seeks asks for compensation and punitive damages by a jury trial.
"We are aware of the lawsuit," Huntsville City Schools spokesman Keith Ward said. "Because this is active litigation, we are working closely with our legal team, and, at this time, we have no further comment."