This is an archived article and the information in the article may be outdated. Please look at the time stamp on the story to see when it was last updated.
OAKDALE, La. – Former Alabama Gov. Don Siegelman, who has served a little more than five years in prison on bribery and related charges, is set to be granted home confinement for the final six months of his prison term, a former Siegelman aide told WHNT News 19 this afternoon.
Siegelman, 70, is currently being housed at Oakdale Federal Correctional Institute in Oakdale, La.  His family lives in Birmingham.
Family spokesman Chip Hill said Siegelman has been told he will be released from prison on Wednesday.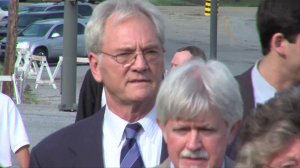 "He will be on very restricted supervised probation for an initial period of time," Hill said in an email to WHNT News 19. "This is expected to be about six months.  Following that, he will be on unsupervised probation for an extended, but not yet specified, period of time. Immediately after returning home, he will report to an assigned probation officer who will provide him with much more detailed information about what restrictions he will have, including specifics regarding media access.
"Naturally, his family and many friends are very excited about his release and very much look forward to seeing him," Hill wrote.
The Federal Bureau of Prisons would not comment specifically on Siegelman's status.
"For privacy reasons, we cannot provide additional information regarding Mr. Siegelman," a department spokesman said.  "The Bureau of Prisons operates under the guiding principle that inmates should be housed in the least restrictive setting necessary to ensure their own safety, as well as the safety of staff, other inmates, and the public. Inmates who are able to function with relatively less supervision can be housed in lower security level institutions."
Siegelman was elected governor in 1998, but was narrowly defeated by Republican Bob Riley in 2002.
In 2006 he was convicted with former HealthSouth CEO Richard Scrushy on federal charges, following allegations that he used his office to trade favors for campaign donations. Siegelman was convicted of conspiracy, bribery and mail fraud.
His appeal wound its way through the court system, with Siegelman and supporters accusing Republicans of mounting a politically-motivated prosecution.
Siegelman's prison term is set to end in August.
Shortly before President Obama left office, he denied Siegelman's request for a pardon.
We broke this story on the WHNT app and WHNT.com on Monday. Make sure you have breaking news alerts enabled on your app – just go to 'Settings' and make sure they're turned on.