This is an archived article and the information in the article may be outdated. Please look at the time stamp on the story to see when it was last updated.
FLORENCE, Ala. – An early Wednesday morning shooting in Florence has first responders in the Shoals thinking of one of their own. A 911 dispatcher in Colbert County was shot in what appears to be a road rage incident.
Florence police say they don't have a lot to go on. Right now they are depending heavily on the accounts of the victim's boyfriend, who was also driving the car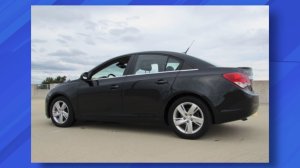 which was shot into.
This is a picture of a vehicle which police say closely resembles the one they are looking for. It's a dark-colored Chevrolet Cruze and could be as old as 2008.
Florence police say they got a 911 call just after 1:15 Monday morning. A female had been shot and was being transported to ECM Hospital by private vehicle. According to investigators, she was shot while in the same car sitting on Malone Circle.
Investigators say the victim is Cassie Sartain, a 911 dispatcher in Colbert County.
Her boyfriend told police they were confronted by someone in the Chevy Cruze near Cox Creek Parkway. The assailant's vehicle followed them to Malone Circle and that's when police say someone jumped out of the car and began shooting towards Sartain. One bullet hit her in the throat.
At last report, Cassie Sartain had made it out of surgery and was recovering at Huntsville Hospital. Police are still trying to locate the suspects. Sergeant Greg Cobb said Sartain was in good condition, during a news conference July 5.
"She is in good condition. I did talk to her parents last night. She is in ICU," Cobb said. "We're hoping we can talk to her today when she gets put in a regular room."
Florence police are encouraging anyone with information on this shooting to contact them or The Shoals Area Crime Stoppers tip line. To speak with an operator call (256)386-8685. If sending a text message is easier, send a detailed message to 274637 (CRIMES). Tips are also accepted on the Shoals Area Crime Stoppers Facebook page.