This is an archived article and the information in the article may be outdated. Please look at the time stamp on the story to see when it was last updated.
NASHVILLE, Tenn. – An international coffee trend is making its way to Nashville. A couple launched a cafe unlike any other in the city called Mewsic Kitty Cafe.
Creature comforts like a familiar menu and a friendly face are what makes a good cafe feel like home.
But what if your coffee came with an actual creature?
That is exactly what owner Maegan Phan hopes to do with Mewsic Kitty Cafe.
"They started happening in California, New York, and kinda everywhere in between," said Phan.  She asked "Why doesn't Nashville have this yet? And my husband and I just decided to go for it."
For just four days this week, and by reservation only, customers can get their coffee with a side of kitten cuddles.
And if it's a good fit, you can even take both home. "All the cats are adoptable."
So far, the pop-up cafe has had five adoptions in just three days. "This is Kitty Wells. She is a Siamese mix. And she is coming home with me."
https://www.instagram.com/p/BWEgaWYAJ4o/?taken-at=844779095661600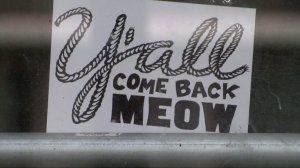 But for each adoption, another is waiting for its own home. "It's really important to me to rescue."
Mewsic Kitty Cafe's pop-up shop will close on Monday, but Maegan says this is just the beginning of many happy tales. "We hope to be open permanently by this time next year."
A place that makes every customer feel right at home.