This is an archived article and the information in the article may be outdated. Please look at the time stamp on the story to see when it was last updated.
HUNTSVILLE, Ala. (WHNT)– It sounds like something from a James Bond Movie, technology with the ability to take fingerprints from 10 feet away in a matter of seconds, but it is a reality thanks to a team of innovators in Huntsville.
Advanced Optical Systems has worked on government military projects for decades but now they are training their attention on the finger print system that may soon be used in airports across the globe.
AIRprint, a long-range fingerprint sensor by Advanced Optical Systems, Inc. (AOS), has also been named a finalist for the internationally renowned Edison Awards™. The award is presented to "game changing innovative products."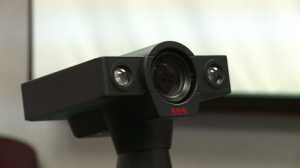 "To be recognized as an Edison finalist for two products – in the same year that the AIRprint system was recognized by Popular Science as one of the top 100 innovations of the year – is an overwhelming honor" says AOS President, Dr. Keith Farr. "We believe that AIRprint and our latest offering, Agile AIRprint, will revolutionize the way our society thinks about fingerprint security."
The distinguished Edison awards symbolize the persistence and excellence personified by Thomas Alva Edison, inspiring creative minds to remain in the forefront of innovation, creativity and ingenuity in the global economy. Being recognized with an Edison Award™ has become one of the highest accolades a company can receive in the name of innovation and business. "More than any year, this year's slate of finalists demonstrate the enormous value of teamwork, experimentation, consumer focus, market awareness and game-changing success," said Frank Bonafilia, Edison Awards' executive director. "It's exciting to see companies like AOS continuing Thomas Edison's legacy of challenging conventional thinking."
AOS developed the long-range fingerprint sensor known as AIRprint in 2009. Last year, AOS released a commercial version of the AIRprint through a spin-off company, IDair. Using the AIRprint technology, U.S. military personnel can identify people and targets from behind the safety of a wall or from inside an armored vehicle. Border Patrol and the Coast Guard can use AIRprint for legal entry verification.  Embassies and diplomatic corps can use AIRprint for routine access control, while TSA and airport security can use AIRprint to verify passenger's and employee's identities with no maintenance or training.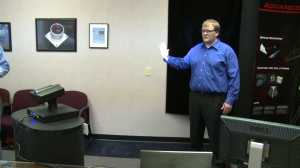 Thomas Edison's extraordinary new product development methods and innovative achievements garnered him 1,093 U.S. patents and made him a household name around the world. The ballot of nominees for the Edison Awards™ is judged by a panel of more than 3,000 individuals, including members of seven different associations representing a wide variety of industries and disciplines. The panel also includes professionals from the fields of product development & design, engineering, science and education.  These criteria represent a new definition of innovation, leveraging the primary themes of Concept, Value, Delivery and Impact. Finalists symbolize 21st century innovation across 12 categories consisting of a diverse range of industries.
Award winners will be announced April 25, 2013 at the Edison Awards™ Annual Gala, held in the Grand Ballroom at historic Navy Pier in Chicago, IL.  For more information about the Edison Awards™ and a list of past winners, visit www.edisonawards.com.
AOS specializes in delivering image processing, proximity operations, and target recognition hardware and software to the DoD and NASA. It is a veteran-owned small business located in Huntsville, Alabama's high tech hub Cummings Research Park.